body, div, ul, li, ol, h1, h2, h3, h4, h5, h6, input, textarea, select, p, dl, dt, dd, a, img, button, form, table, th, tr, td, tbody, article, aside, details, figcaption, figure, footer, header, menu, nav, section {
margin: 0;
padding: 0;
box-sizing: border-box;
}
.clearfix:before,
.clearfix:after {
content: "";
display: table;
}
.clearfix:after {
clear: both;
}
@font-face {
font-family: "iconfont";
src: url('iconfont.eot?t=1545182990006');
src: url('iconfont.eot?t=1545182990006#iefix') format('embedded-opentype'), /* IE6-IE8 */ url('data:application/x-font-woff;charset=utf-8;base64,d09GRgABAAAAAAQoAAsAAAAABmwAAQAAAAAAAAAAAAAAAAAAAAAAAAAAAABHU1VCAAABCAAAADMAAABCsP6z7U9TLzIAAAE8AAAARAAAAFY850hjY21hcAAAAYAAAABLAAABcOeZtv1nbHlmAAABzAAAAHgAAAB4lY+zvmhlYWQAAAJEAAAALgAAADYTnsQMaGhlYQAAAnQAAAAcAAAAJAfeA4NobXR4AAACkAAAAAgAAAAICAAAAGxvY2EAAAKYAAAABgAAAAYAPAAAbWF4cAAAAqAAAAAeAAAAIAEOAC5uYW1lAAACwAAAAUUAAAJtPlT+fXBvc3QAAAQIAAAAHwAAADDX3mJ6eJxjYGRgYOBikGPQYWB0cfMJYeBgYGGAAJAMY05meiJQDMoDyrGAaQ4gZoOIAgCKIwNPAHicY2BkYWCcwMDKwMHUyXSGgYGhH0IzvmYwYuRgYGBiYGVmwAoC0lxTGByeFT4rZG7438AQw9zA0AAUZgTJAQDuzQzFeJxjYGBgZWBgYAZiHSBmYWBgDGFgZAABP6AoI1icmYELLM7CoARWwwISf1b4/z+MBPJZwCQDIxvDKOABkzJQHjisIJiBEQA9SwstAAACAAD/iAPtA20AFQAhAAAFAT4BNS4BJw4BBx4BFzI2NwEWMjY0JS4BJz4BNx4BFw4BA9/+/yovBOaureYEBOatSYE1AQEOJBv9s4azAwOzhoezAwOzKgEBNYFIreYFBeatreYELyr+/w0bJNAEs4aHswMDs4eGs3icY2BkYGAAYiFDQb14fpuvDNwsDCBww/4AL4L+38HCwJwL5HIwMIFEAdWrCAAAAHicY2BkYGBu+N/AEMPCAAJAkpEBFTABAEcIAmsEAAAABAAAAAAAAAAAPAAAeJxjYGRgYGBiUAJiBjCLgYELCBkY/oP5DAAMAAE9AAB4nGWPTU7DMBCFX/oHpBKqqGCH5AViASj9EatuWFRq911036ZOmyqJI8et1ANwHo7ACTgC3IA78EgnmzaWx9+8eWNPANzgBx6O3y33kT1cMjtyDRe4F65TfxBukF+Em2jjVbhF/U3YxzOmwm10YXmD17hi9oR3YQ8dfAjXcI1P4Tr1L+EG+Vu4iTv8CrfQ8erCPuZeV7iNRy/2x1YvnF6p5UHFockikzm/gple75KFrdLqnGtbxCZTg6BfSVOdaVvdU+zXQ+ciFVmTqgmrOkmMyq3Z6tAFG+fyUa8XiR6EJuVYY/62xgKOcQWFJQ6MMUIYZIjK6Og7VWb0r7FDwl57Vj3N53RbFNT/c4UBAvTPXFO6stJ5Ok+BPV8bUnV0K27LnpQ0kV7NSRKyQl7WtlRC6gE2ZVeOEXpc0Yk/KGdI/wAJWm7IAAAAeJxjYGKAAC4G7ICJkYmRmYGtODWxKDmDgQEAEFwCkgA=') format('woff'), url('iconfont.ttf?t=1545182990006') format('truetype'), /* chrome, firefox, opera, Safari, Android, iOS 4.2+*/ url('iconfont.svg?t=1545182990006#iconfont') format('svg');
/* IE9*/
/* iOS 4.1- */
}
.iconfont {
font-family: "iconfont" !important;
font-size: 16px;
font-style: normal;
-webkit-font-smoothing: antialiased;
-moz-osx-font-smoothing: grayscale;
}
.icon-search:before {
content: "e671";
}
#mobile {
width: 375px;
/* max-width: 750px;
min-width: 320px;*/
margin: 0 auto;
display: none;
}
#mobile .items {
width: 100%;
}
#mobile .items > p {
height: 20px;
line-height: 20px;
font-size: 16px;
font-weight: bold;
padding-left: 17.5px;
margin-bottom: 15px;
}
#mobile .article .pro_desc{
font-size:16px;
font-weight:bold;
line-height:36px;
}
#mobile .features {
width: 90%;
margin: 20px auto;
}
#mobile .features p {
font-size: 16px;
font-weight: bold;
}
#mobile .features ul li {
margin-left: 17.5px;
font-size: 13px;
text-indent: 6.5px;
}
#mobile .product {
width: 90%;
margin: 0 auto;
}
#mobile .product p {
font-size: 16px;
font-weight: bold;
}
#mobile .product .parameter1 {
padding-left: 16px;
}
#mobile .product .parameter1 tr td {
font-size: 13px;
padding: 10px 0;
text-align: center;
}
#mobile .product .parameter1 tr td:first-child {
width: 35%;
}
#mobile .footer {
margin-top: 32px;
overflow: auto;
}
#mobile .footer::-webkit-scrollbar {
display: none;
}
#mobile .footer .parameter2 {
width: 730.7px;
margin-bottom: 50px;
}
#mobile .footer .parameter2 tbody td {
border-bottom: 1px solid #ccc;
font-size: 13px;
text-align: center;
width: 120px;
padding: 5px;
word-break: break-word !important;
}
#mobile .product1{
width: 90%;
margin: 10px auto;
padding: 5px;
/*border: 1px solid #ccc;
border-radius: 5px;*/
}
#mobile .product1 .introduction{
font-size:16px;
font-weight:bold;
line-height:40px;
}
#mobile .footer .parameter2 td:first-child {
width:110px;
color: #646464;
}
#mobile .footer .parameter2 thead img {
width: 100%;
/*height: 300px;*/
}
#mobile .footer .parameter2 thead p {
line-height: 25px;
font-size: 16px;
color: #0066BF;
text-align: center;
}
#mobile .footer .parameter2 tbody tr:nth-child(2) td,
#mobile .footer .parameter2 tbody tr:nth-child(3) td,
#mobile .footer .parameter2 tbody tr:nth-child(4) td {
background: #FEF5EC;
}
#mobile .footer .parameter2 tbody tr:nth-child(2) td:first-child,
#mobile .footer .parameter2 tbody tr:nth-child(3) td:first-child,
#mobile .footer .parameter2 tbody tr:nth-child(4) td:first-child {
background: #DCDCDC;
}
#pc .header {
width: 1200px;
height: 235px;
margin: 0 auto;
}
#pc .header .navBox {
width: 100%;
height: 50px;
background: #000000;
}
#pc .header .navBox ul {
width: 970px;
height: 50px;
border-bottom: 1px solid #53514C;
margin: 0 auto;
}
#pc .header .navBox ul li {
width: 25%;
height: 100%;
list-style: none;
float: left;
position: relative;
}
#pc .header .navBox ul li a {
width: 100%;
height: 100%;
display: block;
text-align: center;
padding-top: 10px;
color: #FEFEFE;
font-size: 11px;
text-decoration: none;
}
#pc .header .navBox ul li a p {
font-weight: bold;
}
#pc .header .navBox ul li i {
position: absolute;
right: 0;
bottom: 12px;
width: 1px;
height: 20px;
background: #53514C;
}
#pc .header .logoBox {
width: 100%;
height: 130px;
background: #000;
}
#pc .header .logoBox .imgBox {
width: 970px;
height: 130px;
margin: 0 auto;
}
#pc .header .logoBox .imgBox .left {
width: 470px;
height: 100%;
float: left;
}
#pc .header .logoBox .imgBox .right {
width: 500px;
height: 100%;
float: right;
}
#pc .header .iconBox {
width: 100%;
height: 55px;
background: #252525;
}
#pc .header .iconBox .centerBox {
width: 970px;
height: 100%;
margin: 0 auto;
}
#pc .header .iconBox .centerBox .left {
width: 334px;
height: 100%;
float: left;
padding: 0px 50px;
}
#pc .header .iconBox .centerBox .left .img {
float: left;
height: 100%;
padding-top: 5px;
}
#pc .header .iconBox .centerBox .left .info {
float: left;
color: #fff;
margin-left: 18px;
}
#pc .header .iconBox .centerBox .left .info p {
font-size: 18px;
line-height: 18px;
font-weight: bold;
margin-top: 7px;
}
#pc .header .iconBox .centerBox .left .info span {
font-size: 14px;
display: block;
}
#pc .header .iconBox .centerBox .right {
width: 572px;
height: 100%;
float: right;
}
#pc .header .iconBox .centerBox .right .img {
float: left;
height: 100%;
padding-top: 9px;
}
#pc .header .iconBox .centerBox .right .info,
#pc .header .iconBox .centerBox .right .hours {
color: #fff;
}
#pc .header .iconBox .centerBox .right .info p,
#pc .header .iconBox .centerBox .right .hours p {
font-size: 18px;
font-weight: bold;
line-height: 30px;
}
#pc .header .iconBox .centerBox .right .info span,
#pc .header .iconBox .centerBox .right .hours span {
font-size: 11px;
float: left;
}
#pc .header .iconBox .centerBox .right .info {
height: 100%;
float: left;
margin-left: 26px;
}
#pc .header .iconBox .centerBox .right .info span:last-child {
margin-left: 20px;
}
#pc .header .iconBox .centerBox .right .hours {
height: 100%;
float: left;
margin-left: 50px;
position: relative;
}
#pc .header .iconBox .centerBox .right .hours::before {
content: "";
width: 1px;
height: 40px;
background: #fff;
position: absolute;
left: -25px;
top: 7px;
}
#pc .article {
width: 970px;
font-family: Arial, sans-serif;
margin: 0 auto;
word-wrap:break-word;
}
#pc .article .mapBox {
width: 100%;
height: 374px;
background-color: #fff;
}
#pc .article .mapBox .left {
width: 450px;
height: 100%;
float: left;
padding-top: 50px;
position: relative;
}
#pc .article .mapBox .left span {
font-size: 11px;
font-weight: bold;
color: #000;
position: absolute;
}
#pc .article .mapBox .left span.ca {
left: 20px;
bottom: 125px;
}
#pc .article .mapBox .left span.tx {
left: 198px;
bottom: 78px;
}
#pc .article .mapBox .left span.ky {
left: 264px;
bottom: 160px;
}
#pc .article .mapBox .left span.nj {
right: 58px;
top: 154px;
}
#pc .article .mapBox .right {
width: 520px;
height: 100%;
float: right;
}
#pc .article .mapBox .right h1 {
font-size: 18px;
color: #900900;
margin-top: 40px;
margin-left: 7px;
}
#pc .article .mapBox .right .listBox {
width: 100%;
height: 113px;
border: 1px solid #CFCAC0;
margin-top: 17px;
padding-top: 13px;
padding-left: 22px;
}
#pc .article .mapBox .right .listBox div {
width: 100px;
float: left;
font-size: 12px;
margin-right: 24px;
line-height: 20px;
}
#pc .article .mapBox .right .listBox div p {
font-weight: bold;
}
#pc .article .mapBox .right .advantage,
#pc .article .mapBox .right .attention {
padding-left: 7px;
font-size: 12px;
line-height: 20px;
margin-top: 15px;
}
#pc .article .mapBox .right .advantage p,
#pc .article .mapBox .right .attention p {
font-weight: bold;
}
#pc .article .bgimgBox {
width: 100%;
background-color: #fff;
position: relative;
}
#pc .article .pro_desc{
font-size:16px;
font-weight:bold;
line-height:36px;
}
#pc .article .bgimgBox .bginfo {
position: absolute;
right: 50px;
top: 125px;
width: 250px;
max-height: 300px;
background-color: rgba(255,255,255,.7);
color: #000;
/*word-break: break-all;*/
padding: 10px;
/*overflow: hidden;
transform: translateY(-50%);*/
}
#pc .article .bgimgBox img {
width: 100%;
margin-top:15px;
}
#pc .article .product {
width: 100%;
line-height: 19px;
margin-top: 5px;
margin-bottom:30px;
}
/* #pc .article .product .introduction {
font-size: 14px;
font-weight: bold;
}
#pc .article .product div {
font-size: 12px;
}*/
#pc .article .features {
width: 100%;
margin-top: 30px;
}
#pc .article .features h1 {
font-size: 16px;
}
#pc .article .features ul li {
width: 250px;
float: left;
list-style: none;
margin-top: 30px;
line-height: 19px;
/*height:498px;*/
}
#pc .product1{
line-height: 19px;
}
#pc .product1 .introduction{
font-size:16px;
font-weight:bold;
line-height:40px;
}
#pc .article .features ul li:nth-child(3n-1) {
margin-left: 35px;
margin-right: 35px;
}
#pc .article .features ul li .imgBox {
width: 100%;
height: 300px;
border: 1px solid #A8A39F;
}
/*#pc .article .features ul li p {
font-size: 12px;
line-height: 34px;
}*/
#pc .article .features ul li div {
font-size: 10px;
line-height: 20px;
}
#pc .article .parameter {
width: 100%;
margin-top: 40px;
/*margin-bottom: 30px;*/
}
#pc .article .parameter .imgBox {
width: 300px;
height: 400px;
float: left;
}
#pc .article .parameter .imgBox img {
width: 100%;
height: 100%;
}
#pc .article .parameter .information {
width: 250px;
height: 100%;
float: left;
padding-right: 25px;
padding-left: 0.5cm;
}
#pc .article .parameter .information .intro1{
margin:6px auto;
}
#pc .article .parameter .information .intro1 ul{
padding:10px 40px;
border-radius:5px;
border:1px solid #ccc;
background: #f3f3f3;
/*color: #888888;*/
margin-top:8px;
}
#pc .article .unset-tab .information .intro1 ul{
border:unset !important;
background: unset !important;
}
/*#pc .article .parameter .information p {
font-size: 16px;
font-weight: bold;
line-height:40px;
}*/
#pc .article .parameter .information div {
font-size: 14px;
line-height: 20px;
}
#pc .article .parameter .information .intro2{
padding:25px;
border:1px solid #ccc;
}
#pc .article .parameter .package {
width: 250px;
height: 100%;
float: left;
padding-left:30px;
border-left:1px solid #ccc;
color: #565959 !important;
}
#pc .article .parameter .package img {
width: 100%;
height: 100px;
/* border: 1px solid #A8A39F;*/
}
#pc .article .parameter .package p {
font-size: 12px !important;
/* font-weight: bold;*/
line-height: 36px;
margin: 8px 0;
}
#pc .article .parameter .package ul {
width: 100%;
padding: 10px 20px 10px 30px;
border: 1px solid #AAAAAA;
border-radius: 5px;
margin:12px auto;
background: #f3f3f3;
}
#pc .article .parameter .package ul li {
font-size: 13px;
color: #000;
line-height: 20px;
}
#pc .article .comparison {
width: 100%;
margin-top: 50px;
margin-bottom: 15px;
}
#pc .article .comparison table {
width: 100%;
table-layout: fixed;
}
#pc .article .comparison table thead th {
/*width: 130px;*/
}
#pc .article .comparison table thead th img {
/*width: 150px;
height:300px;*/
border: 5px solid #fff;
width: 100%;
max-width: 150px;
}
#pc .article .comparison table thead th:nth-child(1) {
width: 150px;
}
#pc .article .comparison table tbody tr:first-child td {
color: #0265C0;
}
#pc .article .comparison table tbody td {
font-size: 13px;
color: #111030;
padding: 7px 20px;
text-align: center;
line-height: 20px;
word-break: break-word !important;
}
/* #pc .article .comparison table tbody td:nth-child(1) {
color: #88888A;
background: #DCDCDC;
}*/
#pc .article .comparison table tbody tr:not(:first-child) td:not(first-child) {
background: #FEF5EC;
}
#pc .article .comparison table tbody tr:not(:first-child) td:first-child {
background: #DCDCDC;
color: #88888A;
}
#pc .article .comparison table td {
border-bottom: 1px solid #ccc;
word-wrap:break-word;word-break:break-all;
}
#pc .footer {
width: 1200px;
margin: 0 auto;
position: relative;
}
/* —- PC 纯CSS底部导航 start ——– */
#pc .footer .footer_bg {
width: 100%;
height: 52px;
background: #000;
}
#pc .footer > input,
#pc .footer > span {
position: absolute;
left: 0px;
top: 0px;
width: 160px;
height: 52px;
text-align: center;
line-height: 52px;
font-size: 12px;
color: #fff;
cursor: pointer;
}
#pc .footer input {
z-index: 10;
opacity: 0;
}
#pc .footer .inputnavs1,
#pc .footer .spannavs1 {
left: 113px;
}
#pc .footer .inputnavs2,
#pc .footer .spannavs2 {
left: 273px;
}
#pc .footer .inputnavs3,
#pc .footer .spannavs3 {
left: 433px;
}
#pc .footer .inputnavs4,
#pc .footer .spannavs4 {
left: 593px;
}
#pc .footer .inputnavs5,
#pc .footer .spannavs5 {
left: 753px;
}
#pc .footer .inputnavs6,
#pc .footer .spannavs6 {
left: 913px;
}
.inputnavs1:checked ~ .spannavs1 {
background: #2A2A2A;
}
.inputnavs1:checked ~ #shipping {
display: block;
}
.inputnavs2:checked ~ .spannavs2 {
background: #2A2A2A;
}
.inputnavs2:checked ~ #about {
display: block;
}
.inputnavs3:checked ~ .spannavs3 {
background: #2A2A2A;
}
.inputnavs3:checked ~ #payment {
display: block;
}
.inputnavs4:checked ~ .spannavs4 {
background: #2A2A2A;
}
.inputnavs4:checked ~ #returns {
display: block;
}
.inputnavs5:checked ~ .spannavs5 {
background: #2A2A2A;
}
.inputnavs5:checked ~ #contact {
display: block;
}
.inputnavs6:checked ~ .spannavs6 {
background: #2A2A2A;
}
.inputnavs6:checked ~ #faq {
display: block;
}
/* —- PC 纯CSS底部导航 end ——– */
.footer .ftcitem {
width: 970px;
margin: 0 auto;
display: none;
}
#pc .footer .about {
font-size: 14px;
line-height: 28px;
margin-top: 20px;
}
#pc .footer .returns{
line-height:28px;
}
#pc .footer .payment {
margin-top: 20px;
}
#pc .footer .payment li {
font-size: 14px;
line-height: 28px;
/* margin-top: 10px;*/
}
#pc .footer .payment li .pa {
font-weight: bold;
font-style: oblique;
font-size: 18px;
}
#pc .footer .payment li .pay {
color: #144774;
}
#pc .footer .payment li .pal {
color: #009ddb;
}
#pc .footer .shipping {
margin-top: 20px;
}
#pc .footer .shipping .ftmap {
width: 410px;
float: left;
}
#pc .footer .shipping .ftmap img {
width: 100%;
}
#pc .footer .shipping .ftinfo {
width: 100%;
width: 560px;
float: right;
padding-left: 26px;
}
#pc .footer .shipping .ftinfo > p {
/* height: 25px;*/
font-size: 1px;
line-height: 25px;
font-weight: bold;
}
#pc .footer .shipping .ftinfo .time {
height: 48px;
}
#pc .footer .shipping .ftinfo .time span {
font-size: 12px;
}
#pc .footer .shipping .ftinfo .time span:nth-child(1) {
font-size: 16px;
color: #c10400;
font-weight: bold;
margin-right: 30px;
}
#pc .footer .shipping .ftinfo .warehouse {
width: 100%;
height: 150px;
}
#pc .footer .shipping .ftinfo .warehouse p {
font-size: 14px;
line-height: 28px;
}
#pc .footer .shipping .ftinfo .warehouse div {
width: 200px;
height: 100px;
float: left;
border: 1px solid #ccc;
border-radius: 5px;
font-size: 12px;
color: #757575;
padding: 9px 4px;
margin-right: 4px;
}
#pc .footer .shipping .ftinfo .warehouse div:last-child {
margin-right: 0px;
}
#pc .footer .shipping .ftinfo .ftAdvntage,
#pc .footer .shipping .ftinfo .ftAttention {
width: 100%;
line-height: 25px;
}
#pc .footer .shipping .ftinfo .ftAdvntage p,
#pc .footer .shipping .ftinfo .ftAttention p {
font-size: 14px;
color: #CE0400;
}
#pc .footer .shipping .ftinfo .ftAdvntage span,
#pc .footer .shipping .ftinfo .ftAttention span {
font-size: 12px;
}
#pc .footer .shipping .ftinfo .ftAttention {
margin-top: 22px;
}
#pc .footer .returns {
margin-top: 20px;
font-size: 14px;
}
#pc .footer .contact {
font-size: 14px;
line-height: 28px;
margin-top:20px;
}
#pc .footer .faq {
margin-top: 20px;
}
#pc .footer .faq li {
font-size: 14px;
line-height: 28px;
/*list-style: none;*/
/* margin-top: 10px;*/
}
#pc .footer .faq li .colorEm {
color: #3faacc;
font-style: normal;
}
@media screen and (max-width: 750px) {
#mobile {
display: block;
}
#pc {
display: none;
}
}
.ytvideo * { box-sizing:border-box; }
.ytvideo { font-family:arial; text-align:center; position:relative; background-color:#555; }
.ytvideo p { position:absolute; margin:0; color:white; background-color:rgba(0,0,0,.5); }
.ytvideo .yt_hd { font-size:16px; width:100%; height:28px; line-height:28px; text-align:left; top:0; left:0; padding-left:10px; overflow:hidden; }
.ytvideo .yt_ft { font-size:12px; width:100%; bottom:0; left:0; } .ytvideo img { display:block; max-width:100%; border:0; }
.ytvideo a:after { content:"A025BA"; position:absolute; width:60px; height:50px; left:0; top:0; right:0; bottom:0; margin:auto; border:0; border-radius:10px; color:white; background:rgba(0,0,0,.6); font-size:24px; line-height:50px; cursor:pointer; } .ytvideo a:hover:after { background:#CC181E; } .ytvideo .yt_inp { position:absolute; top:100%; left:0; width:100%; text-align:center; padding:.5em .2em; xfont-size:18px; border:0; color:white; background: rgba(0,0,0,.7); } @media(max-device-width:960px){ .ytvideo { margin-bottom:50px; } .ytvideo .yt_inp { padding:1em .2em; } }
#mobile .ytvideo{margin-left: 15px;margin-right:15px;}
Product Description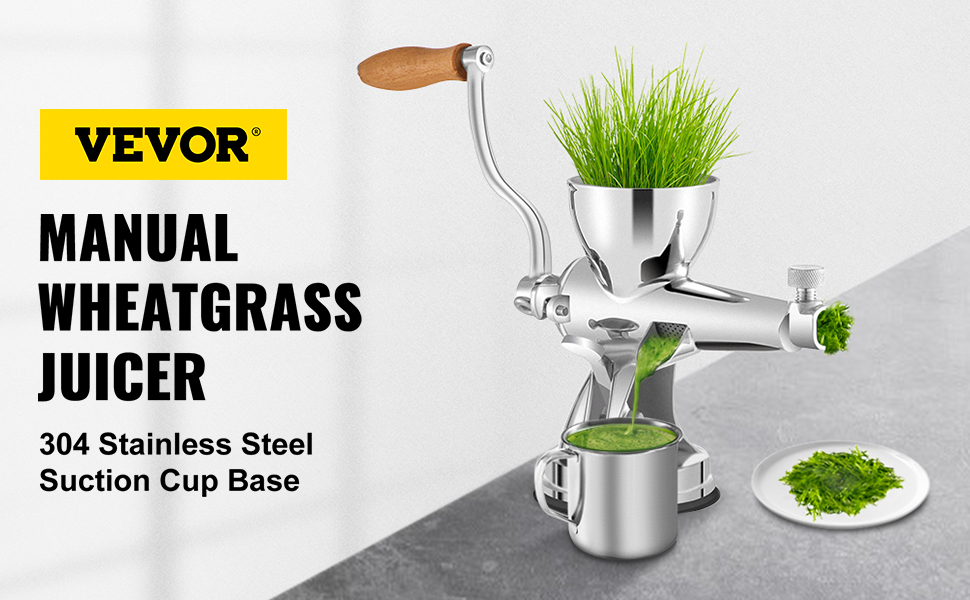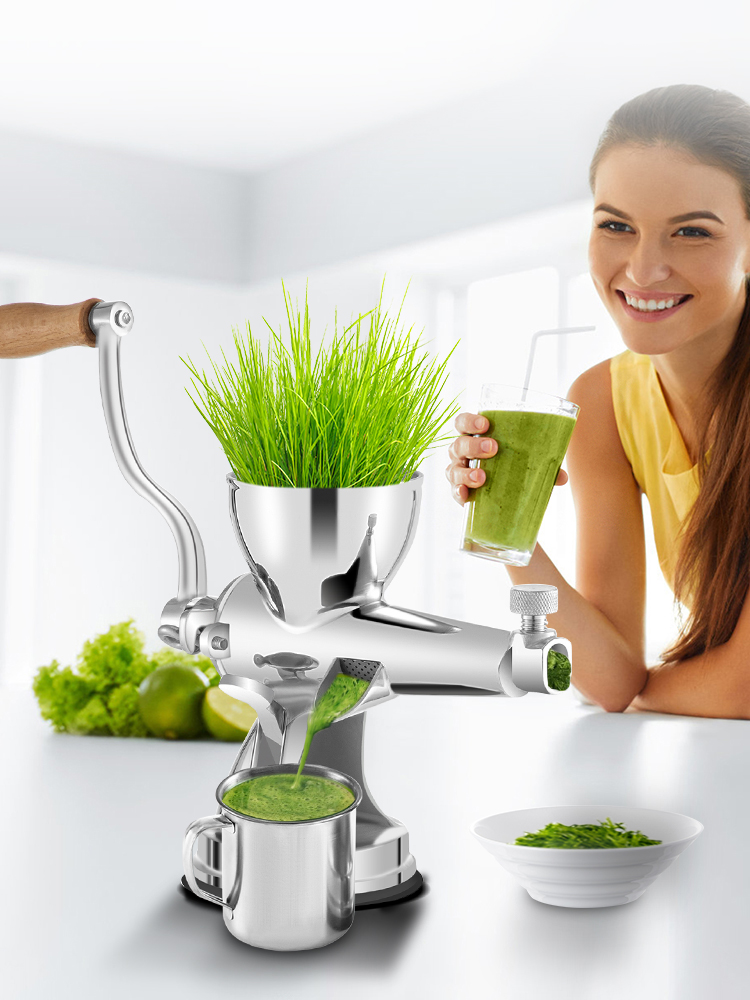 Manual Wheatgrass Juicer
Constructed of food-grade 304 stainless steel, our manual wheatgrass juicer for various fruits and vegetables is an ideal kitchen helper for you. Considerate details are integrated, such as the ergonomic handle, wide feed port, smooth juice outlet, and the fineness-adjustable dregs outlet. To fix it on the worktable, you can choose between the suction cup base and table-top clamp. And it will also come with a set of practical accessories. Just enjoy the slow extrusion at ease.
Premium Material & Extra Part

s

Effortless

t

o Get High Juice Yield

Suction Cup Base & Tabletop Clamp

Easy-

t

o-Clean Detachable Design
Tough Equipment & Tools, Pay Less
VEVOR is a leading brand that specializes in equipment and tools. Along with thousands of motivated employees, VEVOR is dedicated to providing our customers with tough equipment & tools at incredibly low prices. Today, VEVOR's products are sold in more than 200 countries and regions with 10 million plus members worldwide.
Why Choose VEVOR?
Premium Tough Quality

Incredibly Low Prices

Fast & Secure Delivery

30-Day Free Returns

24/7 Attentive Service
Key Features
Premium 304 Stainless Steel

Constructed of food-grade material, this manual wheatgrass juicer is ideal for kitchen use. With all the parts that come in contact with food ingredients adopting the premium 304 stainless steel, it features an elegant appearance, long service life, and easy cleaning. The filter for spare use & juice-catching cup also adopts SUS 304.

Labor-Saving Operation

Taking advantage of the ergonomic design and labor-saving lever, you will find it quite relaxing to operate this hand-crank wheatgrass juicer by turning its handle, detachable and 360-degree rotatable. In addition, the screw auger with solid casting and the filter with dense mesh facilitate thorough juicing and keep the original flavors.

Well-Designed Inlet & Outlet

Our manual wheatgrass grinder integrates a feed port on its top, 3.4″ (8.6 cm) in diameter, in which you can put more fruits and vegetables in pieces. Fresh juices can be timely discharged through the outlet on the side, smooth and free of clogging. And you can adjust the fineness as you wish by rotating the screw on the dregs outlet.
Two Alternative Fixing Ways

Two fixing methods are available for this wheatgrass extractor. One is realized through the suction cup base, 4.7″ (12 cm) in diameter. It can be tightly fixed on flat desktops (wood, glass, marble, etc.) by pressing down the knob. You can also attach it to the edge of the worktable with the table-top clamp, freely adjustable in tightness.

Detachable for Easy Cleaning

Unlike the electric juicers and grinders, which are complex and challenging to clean, our hand-crank juicer is detachable for thorough cleaning. It will be pretty convenient for you to wash it with the cleaning brush, a practical accessory offered. On the strength of the separatable design, easy disassembly & assembly can also be assured.

Manual Juicer for Various Uses

As a reliable kitchen helper, this manual multifunctional juicer features extensive applications. You can apply it to various fruit and vegetables with relatively rich moisture content, including but not limited to wheatgrass, ginger, celery, aloe, cabbage, apple, grape, orange, pear, watermelon, pomegranate, etc.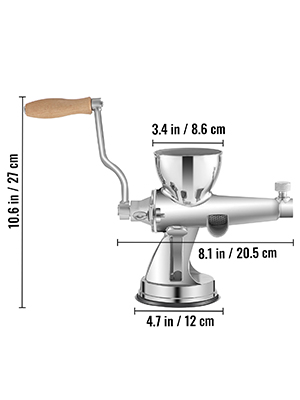 Specifications
Model: MMZZJFLJ04

Material: 304 Stainless Steel

Diameter of Feed Port: 3.4″ (8.6 cm)

Length of Body: 8.1″ (20.5 cm)

Diameter of Base:

4.7″

(

12

cm

)

Item Height: 10.6″ (27 cm)

Item Weight: 5.6 lbs (2.53 kg)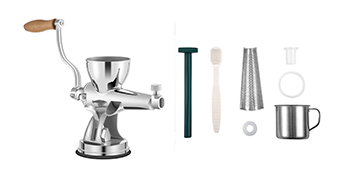 Package Content
1 x Manual Wheatgrass Juicer

1 x Juice-catching Cup

1 x Tamping Rod

1 x Cleaning Brush

1 x Filter

1 x Axle Sleeve

1 x Sealing Ring
Features & Details
【

PREMIUM MATERIAL & EXTRA PARTS

】

– Exquisitely crafted and designed, our manual wheatgrass juicer is an ideal kitchen helper, bringing you the fun of juicing. All the parts that come into contact with fruit or vegetable ingredients adopt food-grade 304 stainless steel, durable and sanitary. It comes with considerate & complete accessories, including a tamping rod, a cleaning brush, a juice-catching cup, and a set of parts for replacement (

filter

, axle sleeve, sealing ring each for one).

【

EFFORTLESS TO GET HIGH JUICE YIELD

】

– Our hand-crank wheatgrass grinder will keep the

original

flavors when juicing. The feed port with a 3.4″ (8.6 cm) diameter can hold more food ingredients. The stainless steel screw auger, formed in solid casting, can grind & squeeze more thoroughly. The juice outlet is smooth and free of clogging, and the 360-degree rotatable handle considerably serves the labor-saving operation. Besides, you can rotate the screw on the dregs outlet to adjust the fineness.

【

SUCTION CUP BASE & TABLETOP CLAMP

】

– This hand wheatgrass juicer has two types of fixing methods. For the first, you can attach it to the flat surfaces (such as wooden, glass, marble, etc.) with its round suction cup base, measuring 4.7″ (12 cm) in diameter. Press down the knob on its side, and then it will be tightly fixed onto the desktop. For the other, you can clip it on the edge of your worktable with the aid of the table-top clamp and flexibly tighten or loosen it by turning the screw.

【

EASY-TO-CLEAN DETACHABLE DESIGN

】

– Unlike the electric ones, this manual extractor for fruits and vegetables calls attention to easy washing. All the parts are detachable (body, handle, parts inside, and screws for connection or adjustment), from the comfort of which you can clean them thoroughly with the brush offered and reassemble them in a breeze. Tip: The organic acids from the juice of fruits & vegetables would corrode the stainless steel surface. Please clean it in time after use.

【

MULTIPURPOSE HAND CRANK JUICER

】

– As a good helper in your kitchen, well-designed yet simple-to-use, our hand-crank wheatgrass juicer adopts premium material and integrates two alternative fixing ways. It is suitable for extracting various fruits and vegetables, such as wheatgrass, ginger, celery, apple, grape, watermelon, pomegranate, etc. It can seal in the original flavor of the ingredients to the greatest extent and provide a relatively high juice yield at the same time.
4 GREAT REASONS TO BUY FROM US:
Over 37,000

happy customers worldwide

Real people

on our support team ready to help

We proudly offer a full satisfaction guarantee.

Our highest priority is to make you happy, so every order comes with a 60-day money back guarantee!

100% Safety & Security Guaranteed.

At bestmarketjj.com, we take your security and privacy very seriously. Shop safely using the world's most popular and trustworthy payment methods!
BUY WITH CONFIDENCE
We truly believe in the best customer support, meaning we will do whatever it takes to make sure you have a positive purchase experience. We respond to emails within 24 hours and always make sure all your concerns are answered ASAP.
Easy Returns.

All our products are backed with 60-day money back guarantee. Just contact us and we will refund the purchase price.

Risk-Free Purchase:

Our Buyer Protection covers your purchase from click to delivery so you can shop with peace of mind.

100% Satisfaction Guarantee:

All our products are backed with 60-day money back guarantee. If for any reason you're not completely satisfied with your purchase, contact us for a product refund. We'll be more than happy to assist you.