body, div, ul, li, ol, h1, h2, h3, h4, h5, h6, input, textarea, select, p, dl, dt, dd, a, img, button, form, table, th, tr, td, tbody, article, aside, details, figcaption, figure, footer, header, menu, nav, section {
margin: 0;
padding: 0;
box-sizing: border-box;
}
.clearfix:before,
.clearfix:after {
content: "";
display: table;
}
.clearfix:after {
clear: both;
}
@font-face {
font-family: "iconfont";
src: url('iconfont.eot?t=1545182990006');
src: url('iconfont.eot?t=1545182990006#iefix') format('embedded-opentype'), /* IE6-IE8 */ url('data:application/x-font-woff;charset=utf-8;base64,d09GRgABAAAAAAQoAAsAAAAABmwAAQAAAAAAAAAAAAAAAAAAAAAAAAAAAABHU1VCAAABCAAAADMAAABCsP6z7U9TLzIAAAE8AAAARAAAAFY850hjY21hcAAAAYAAAABLAAABcOeZtv1nbHlmAAABzAAAAHgAAAB4lY+zvmhlYWQAAAJEAAAALgAAADYTnsQMaGhlYQAAAnQAAAAcAAAAJAfeA4NobXR4AAACkAAAAAgAAAAICAAAAGxvY2EAAAKYAAAABgAAAAYAPAAAbWF4cAAAAqAAAAAeAAAAIAEOAC5uYW1lAAACwAAAAUUAAAJtPlT+fXBvc3QAAAQIAAAAHwAAADDX3mJ6eJxjYGRgYOBikGPQYWB0cfMJYeBgYGGAAJAMY05meiJQDMoDyrGAaQ4gZoOIAgCKIwNPAHicY2BkYWCcwMDKwMHUyXSGgYGhH0IzvmYwYuRgYGBiYGVmwAoC0lxTGByeFT4rZG7438AQw9zA0AAUZgTJAQDuzQzFeJxjYGBgZWBgYAZiHSBmYWBgDGFgZAABP6AoI1icmYELLM7CoARWwwISf1b4/z+MBPJZwCQDIxvDKOABkzJQHjisIJiBEQA9SwstAAACAAD/iAPtA20AFQAhAAAFAT4BNS4BJw4BBx4BFzI2NwEWMjY0JS4BJz4BNx4BFw4BA9/+/yovBOaureYEBOatSYE1AQEOJBv9s4azAwOzhoezAwOzKgEBNYFIreYFBeatreYELyr+/w0bJNAEs4aHswMDs4eGs3icY2BkYGAAYiFDQb14fpuvDNwsDCBww/4AL4L+38HCwJwL5HIwMIFEAdWrCAAAAHicY2BkYGBu+N/AEMPCAAJAkpEBFTABAEcIAmsEAAAABAAAAAAAAAAAPAAAeJxjYGRgYGBiUAJiBjCLgYELCBkY/oP5DAAMAAE9AAB4nGWPTU7DMBCFX/oHpBKqqGCH5AViASj9EatuWFRq911036ZOmyqJI8et1ANwHo7ACTgC3IA78EgnmzaWx9+8eWNPANzgBx6O3y33kT1cMjtyDRe4F65TfxBukF+Em2jjVbhF/U3YxzOmwm10YXmD17hi9oR3YQ8dfAjXcI1P4Tr1L+EG+Vu4iTv8CrfQ8erCPuZeV7iNRy/2x1YvnF6p5UHFockikzm/gple75KFrdLqnGtbxCZTg6BfSVOdaVvdU+zXQ+ciFVmTqgmrOkmMyq3Z6tAFG+fyUa8XiR6EJuVYY/62xgKOcQWFJQ6MMUIYZIjK6Og7VWb0r7FDwl57Vj3N53RbFNT/c4UBAvTPXFO6stJ5Ok+BPV8bUnV0K27LnpQ0kV7NSRKyQl7WtlRC6gE2ZVeOEXpc0Yk/KGdI/wAJWm7IAAAAeJxjYGKAAC4G7ICJkYmRmYGtODWxKDmDgQEAEFwCkgA=') format('woff'), url('iconfont.ttf?t=1545182990006') format('truetype'), /* chrome, firefox, opera, Safari, Android, iOS 4.2+*/ url('iconfont.svg?t=1545182990006#iconfont') format('svg');
/* IE9*/
/* iOS 4.1- */
}
.iconfont {
font-family: "iconfont" !important;
font-size: 16px;
font-style: normal;
-webkit-font-smoothing: antialiased;
-moz-osx-font-smoothing: grayscale;
}
.icon-search:before {
content: "e671";
}
#mobile {
width: 375px;
/* max-width: 750px;
min-width: 320px;*/
margin: 0 auto;
display: none;
}
#mobile .header {
width: 100%;
}
#mobile .header h1 {
height: 40px;
line-height: 40px;
font-size: 20px;
padding-left: 10px;
}
#mobile .header p {
height: 25px;
line-height: 25px;
padding-left: 10px;
font-size: 13px;
}
#mobile .header .searchBox {
width: 90%;
height: 25px;
padding-left: 24px;
margin: 0 auto;
border: 1px solid #949494;
border-radius: 5px;
position: relative;
}
#mobile .header .searchBox i {
width: 25px;
height: 25px;
position: absolute;
left: 0;
top: 0;
text-align: center;
line-height: 25px;
font-size: 10px;
}
#mobile .header .searchBox input {
width: 100%;
height: 100%;
float: left;
border: none;
outline: none;
}
#mobile .items {
width: 100%;
}
#mobile .items h1 {
height: 40px;
line-height: 40px;
font-size: 16px;
padding-left: 17px;
margin-top: 10px;
}
#mobile .items > p {
height: 20px;
line-height: 20px;
font-size: 16px;
font-weight: bold;
padding-left: 17.5px;
margin-bottom: 15px;
}
#mobile .items .bgimg {
width: 90%;
margin: 0 auto;
}
#mobile .items .bgimg img {
width: 100%;
}
#mobile .items .bgimg ul {
margin-top: 15px;
border: 1px solid #ccc;
padding-left: 10px;
background-color: #F3F3F3;
border-radius: 5px;
}
#mobile .items .bgimg ul li {
list-style: none;
font-size: 13px;
padding-left: 1.5em;
position: relative;
}
#mobile .items .bgimg ul li::before {
position: absolute;
left: 0;
top: 4px;
width: 8px;
height: 8px;
content: "";
border-radius: 50%;
background: #949494;
}
/*#mobile .items .bgimg ul li:first-child {
font-weight: bold;
}*/
#mobile .items .feature {
width: 90%;
margin: 0 auto;
margin-top:20px;
}
#mobile .items .feature h1 {
font-size: 14px;
height: 40px;
line-height: 40px;
padding-left: 0;
}
#mobile .items .feature ul {
width: 100%;
}
#mobile .article .pro_desc{
font-size:16px;
font-weight:bold;
line-height:36px;
}
#mobile .items .feature ul li {
width: 100%;
list-style: none;
margin-bottom: 0.75rem;
margin-bottom:30px;
}
#mobile .items .feature ul li p:nth-child(1){
text-align: center;
}
#mobile .items .feature ul li .imgBox {
width: 100%;
padding: 0 25px;
}
#mobile .items .feature ul li .imgBox img {
width: 100%;
}
#mobile .items .feature ul li p {
font-size: 16px;
/* font-weight: bold;*/
padding-left: 0;
}
#mobile .items .feature ul li .info {
padding: 0 24px;
font-size: 13px;
position: relative;
}
#mobile .items .feature ul li .info::before {
position: absolute;
left: 0px;
top: 5px;
width: 8px;
height: 8px;
content: "";
border-radius: 50%;
background: #949494;
}
#mobile .specifications {
width: 90%;
margin: 0 auto;
}
#mobile .specifications h1 {
font-size: 16px;
}
#mobile .specifications .imgBox1 {
width: 100%;
}
#mobile .specifications .imgBox1 img {
width: 100%;
}
#mobile .specifications .imgBox1 p {
font-size: 13px;
color: #575757;
text-align: center;
}
#mobile .specifications .cares {
font-size: 16px;
color: #555555;
text-align: center;
margin:20px 0;
}
#mobile .specifications .imgBox1 .info {
font-size: 13px;
color: #555555;
margin: 10px 0;
}
#mobile .specifications .imgBox1 ul {
width: 100%;
padding: 18px;
/*border: 1px solid #ccc;
border-radius: 5px;*/
}
#mobile .specifications .imgBox1 ul li {
font-size: 14px;
color: #000;
}
#mobile .specifications .imgBox2 {
width: 100%;
}
#mobile .specifications .imgBox2 img {
width: 100%;
}
#mobile .specifications .imgBox2 .details i {
font-size: 13px;
color: #555555;
}
#mobile .specifications .friendly {
margin:5px 0px;
}
#mobile .specifications .friendly ul {
border: 1px solid #ccc;
border-radius: 5px;
padding: 8px;
background: #F3F3F3;
}
#mobile .specifications .friendly ul li {
margin-left: 20px;
font-size: 14px;
}
#mobile .specifications .imgBox2 .details ul {
width: 100%;
padding: 10px 0;
}
#mobile .specifications .imgBox2 .details ul li {
font-size: 13px;
color: #000;
list-style: none;
line-height: 25px;
}
#mobile .features {
width: 90%;
margin: 20px auto;
}
#mobile .features p {
font-size: 16px;
font-weight: bold;
}
#mobile .features ul li {
margin-left: 17.5px;
font-size: 13px;
text-indent: 6.5px;
}
#mobile .product {
width: 90%;
margin: 0 auto;
}
#mobile .product p {
font-size: 16px;
font-weight: bold;
}
#mobile .product .parameter1 {
padding-left: 16px;
}
#mobile .product .parameter1 tr td {
font-size: 13px;
padding: 10px 0;
text-align: center;
}
#mobile .product .parameter1 tr td:first-child {
width: 35%;
}
#mobile .footer {
overflow: auto;
}
#mobile .footer .parameter2 {
/* border-top: 1px solid #ccc;
border-left: 1px solid #ccc;*/
width: 730.7px;
}
#mobile .footer .parameter2 tbody td {
border-bottom: 1px solid #ccc;
/* border-right: 1px solid #ccc;*/
font-size: 13px;
text-align: center;
width: 120px;
word-wrap: break-word;
word-break: break-all;
padding: 5px;
}
#mobile .product1{
width: 90%;
margin: 10px auto;
padding: 5px;
/*border: 1px solid #ccc;
border-radius: 5px;*/
}
#mobile .product1 .introduction{
font-size:16px;
font-weight:bold;
line-height:40px;
}
#mobile .footer .parameter2 td:first-child {
width:110px;
color: #646464;
}
#mobile .footer .parameter2 thead img {
width: 100%;
height: 300px;
}
#mobile .footer .parameter2 thead p {
line-height: 25px;
font-size: 16px;
color: #0066BF;
text-align: center;
}
#mobile .footernav {
width: 100%;
padding-top: 30px;
}
#mobile .footernav .about,
#mobile .footernav .payment,
#mobile .footernav .shipping,
#mobile .footernav .returns,
#mobile .footernav .contact,
#mobile .footernav .faq {
width: 100%;
padding: 0 26px;
margin-bottom: 30px;
}
#mobile .footernav .about h1,
#mobile .footernav .payment h1,
#mobile .footernav .shipping h1,
#mobile .footernav .returns h1,
#mobile .footernav .contact h1,
#mobile .footernav .faq h1 {
font-size: 16px;
line-height: 30px;
}
#mobile .footernav .about .info {
font-size: 13px;
line-height: 20px;
padding-left: 10px;
}
#mobile .footernav .payment ul li {
list-style: outside;
font-size: 13px;
line-height: 20px;
margin-left: 20px;
margin-bottom: 10px;
}
#mobile .footernav .payment ul li .pa {
font-weight: bold;
font-style: oblique;
font-size: 16px;
}
#mobile .footernav .payment ul li .pay {
color: #144774;
}
#mobile .footernav .payment ul li .pal {
color: #009ddb;
}
#mobile .footernav .shipping .imgBox {
width: 100%;
padding: 20px;
}
#mobile .footernav .shipping .imgBox img {
width: 100%;
}
#mobile .footernav .shipping .infoBox {
width: 100%;
padding-left: 26px;
}
#mobile .footernav .shipping .infoBox > p {
line-height: 40px;
font-size: 13px;
font-weight: bold;
}
#mobile .footernav .shipping .infoBox .time {
width: 100%;
margin-bottom: 15px;
}
#mobile .footernav .shipping .infoBox .time span:first-child {
font-size: 16px;
color: red;
}
#mobile .footernav .shipping .infoBox .time span:last-child {
font-size: 13px;
margin-left: 5px;
}
#mobile .footernav .shipping .infoBox .warehouse P {
line-height: 30px;
}
#mobile .footernav .shipping .infoBox .warehouse div {
float: left;
width: 100%;
height: 45px;
font-size: 13px;
color: #757575;
border: 1px solid rgb(124, 120, 120);
border-radius: 5px;
margin-left: 10px;
margin-top: 10px;
padding: 5px;
}
#mobile .footernav .shipping .infoBox .ftAdvntage,
#mobile .footernav .shipping .infoBox .ftAttention {
width: 100%;
margin-top: 20px;
}
#mobile .footernav .shipping .infoBox .ftAdvntage p,
#mobile .footernav .shipping .infoBox .ftAttention p {
line-height: 30px;
font-size: 16px;
color: red;
}
#mobile .footernav .shipping .infoBox .ftAdvntage span,
#mobile .footernav .shipping .infoBox .ftAttention span {
line-height: 15px;
font-size: 13px;
}
#mobile .footernav .returns .infos,
#mobile .footernav .contact .infos,
#mobile .footernav .faq .infos {
font-size: 13px;
padding-left: 10px;
line-height: 20px;
}
#mobile .footernav .faq .infos li {
list-style: none;
font-size: 13px;
line-height: 25px;
margin-top: 10px;
}
#mobile .footernav .faq .infos li .colorEm {
color: #3faacc;
font-style: normal;
}
/*#mobile .footer .parameter2 tbody tr:last-child {
font-weight: bold;
color: #0D66C1;
}*/
/*#mobile .footer .parameter2 tbody td:first-child {
background: #DCDCDC;
}*/
#mobile .footer .parameter2 tbody tr:nth-child(2) td,
#mobile .footer .parameter2 tbody tr:nth-child(3) td,
#mobile .footer .parameter2 tbody tr:nth-child(4) td {
background: #FEF5EC;
}
#mobile .footer .parameter2 tbody tr:nth-child(2) td:first-child,
#mobile .footer .parameter2 tbody tr:nth-child(3) td:first-child,
#mobile .footer .parameter2 tbody tr:nth-child(4) td:first-child {
background: #DCDCDC;
}
#mobile .bginfo{
margin-top:10px;
}
#mobile .detail{
width: 90%;
margin: 0 auto;
}
#mobile .detail ul{
padding:0 15px;
}
#mobile .specifications .friendly ul{
margin:15px 0;
}
#mobile .specifications .friendly li{
margin:5px 0;
}
#pc .header {
width: 1200px;
height: 235px;
margin: 0 auto;
}
#pc .header .navBox {
width: 100%;
height: 50px;
background: #000000;
}
#pc .header .navBox ul {
width: 970px;
height: 50px;
border-bottom: 1px solid #53514C;
margin: 0 auto;
}
#pc .header .navBox ul li {
width: 25%;
height: 100%;
list-style: none;
float: left;
position: relative;
}
#pc .header .navBox ul li a {
width: 100%;
height: 100%;
display: block;
text-align: center;
padding-top: 10px;
color: #FEFEFE;
font-size: 11px;
text-decoration: none;
}
#pc .header .navBox ul li a p {
font-weight: bold;
}
#pc .header .navBox ul li i {
position: absolute;
right: 0;
bottom: 12px;
width: 1px;
height: 20px;
background: #53514C;
}
#pc .header .logoBox {
width: 100%;
height: 130px;
background: #000;
}
#pc .header .logoBox .imgBox {
width: 970px;
height: 130px;
margin: 0 auto;
}
#pc .header .logoBox .imgBox .left {
width: 470px;
height: 100%;
float: left;
}
#pc .header .logoBox .imgBox .right {
width: 500px;
height: 100%;
float: right;
}
#pc .header .iconBox {
width: 100%;
height: 55px;
background: #252525;
}
#pc .header .iconBox .centerBox {
width: 970px;
height: 100%;
margin: 0 auto;
}
#pc .header .iconBox .centerBox .left {
width: 334px;
height: 100%;
float: left;
padding: 0px 50px;
}
#pc .header .iconBox .centerBox .left .img {
float: left;
height: 100%;
padding-top: 5px;
}
#pc .header .iconBox .centerBox .left .info {
float: left;
color: #fff;
margin-left: 18px;
}
#pc .header .iconBox .centerBox .left .info p {
font-size: 18px;
line-height: 18px;
font-weight: bold;
margin-top: 7px;
}
#pc .header .iconBox .centerBox .left .info span {
font-size: 14px;
display: block;
}
#pc .header .iconBox .centerBox .right {
width: 572px;
height: 100%;
float: right;
}
#pc .header .iconBox .centerBox .right .img {
float: left;
height: 100%;
padding-top: 9px;
}
#pc .header .iconBox .centerBox .right .info,
#pc .header .iconBox .centerBox .right .hours {
color: #fff;
}
#pc .header .iconBox .centerBox .right .info p,
#pc .header .iconBox .centerBox .right .hours p {
font-size: 18px;
font-weight: bold;
line-height: 30px;
}
#pc .header .iconBox .centerBox .right .info span,
#pc .header .iconBox .centerBox .right .hours span {
font-size: 11px;
float: left;
}
#pc .header .iconBox .centerBox .right .info {
height: 100%;
float: left;
margin-left: 26px;
}
#pc .header .iconBox .centerBox .right .info span:last-child {
margin-left: 20px;
}
#pc .header .iconBox .centerBox .right .hours {
height: 100%;
float: left;
margin-left: 50px;
position: relative;
}
#pc .header .iconBox .centerBox .right .hours::before {
content: "";
width: 1px;
height: 40px;
background: #fff;
position: absolute;
left: -25px;
top: 7px;
}
#pc .article {
width: 970px;
font-family: Arial, sans-serif;
margin: 0 auto;
word-wrap:break-word;
}
#pc .article .mapBox {
width: 100%;
height: 374px;
background-color: #fff;
}
#pc .article .mapBox .left {
width: 450px;
height: 100%;
float: left;
padding-top: 50px;
position: relative;
}
#pc .article .mapBox .left span {
font-size: 11px;
font-weight: bold;
color: #000;
position: absolute;
}
#pc .article .mapBox .left span.ca {
left: 20px;
bottom: 125px;
}
#pc .article .mapBox .left span.tx {
left: 198px;
bottom: 78px;
}
#pc .article .mapBox .left span.ky {
left: 264px;
bottom: 160px;
}
#pc .article .mapBox .left span.nj {
right: 58px;
top: 154px;
}
#pc .article .mapBox .right {
width: 520px;
height: 100%;
float: right;
}
#pc .article .mapBox .right h1 {
font-size: 18px;
color: #900900;
margin-top: 40px;
margin-left: 7px;
}
#pc .article .mapBox .right .listBox {
width: 100%;
height: 113px;
border: 1px solid #CFCAC0;
margin-top: 17px;
padding-top: 13px;
padding-left: 22px;
}
#pc .article .mapBox .right .listBox div {
width: 100px;
float: left;
font-size: 12px;
margin-right: 24px;
line-height: 20px;
}
#pc .article .mapBox .right .listBox div p {
font-weight: bold;
}
#pc .article .mapBox .right .advantage,
#pc .article .mapBox .right .attention {
padding-left: 7px;
font-size: 12px;
line-height: 20px;
margin-top: 15px;
}
#pc .article .mapBox .right .advantage p,
#pc .article .mapBox .right .attention p {
font-weight: bold;
}
#pc .article .bgimgBox {
width: 100%;
background-color: #fff;
position: relative;
}
#pc .article .pro_desc{
font-size:16px;
font-weight:bold;
line-height:36px;
}
#pc .article .bgimgBox .bginfo {
position: absolute;
right: 50px;
top: 125px;
width: 250px;
max-height: 300px;
background-color: rgba(255,255,255,.7);
color: #000;
/*word-break: break-all;*/
padding: 10px;
/*overflow: hidden;
transform: translateY(-50%);*/
}
#pc .article .bgimgBox img {
width: 100%;
margin-top:15px;
}
#pc .article .product {
width: 100%;
line-height: 19px;
margin-top: 5px;
margin-bottom:30px;
}
/* #pc .article .product .introduction {
font-size: 14px;
font-weight: bold;
}
#pc .article .product div {
font-size: 12px;
}*/
#pc .article .features {
width: 100%;
margin-top: 30px;
}
#pc .article .features h1 {
font-size: 16px;
}
#pc .article .features ul li {
width: 250px;
float: left;
list-style: none;
margin-top: 30px;
line-height: 19px;
/*height:498px;*/
}
#pc .product1{
line-height: 19px;
}
#pc .product1 .introduction{
font-size:16px;
font-weight:bold;
line-height:40px;
}
#pc .article .features ul li:nth-child(3n-1) {
margin-left: 35px;
margin-right: 35px;
}
#pc .article .features ul li .imgBox {
width: 100%;
height: 300px;
border: 1px solid #A8A39F;
}
/*#pc .article .features ul li p {
font-size: 12px;
line-height: 34px;
}*/
#pc .article .features ul li div {
font-size: 10px;
line-height: 20px;
}
#pc .article .parameter {
width: 100%;
margin-top: 40px;
/*margin-bottom: 30px;*/
}
#pc .article .parameter .imgBox {
width: 300px;
height: 400px;
float: left;
}
#pc .article .parameter .imgBox img {
width: 100%;
height: 100%;
}
#pc .article .parameter .information {
width: 250px;
height: 100%;
float: left;
padding-right: 25px;
padding-left: 0.5cm;
}
#pc .article .parameter .information .intro1{
margin:6px auto;
}
#pc .article .parameter .information .intro1 ul{
padding:10px 40px;
border-radius:5px;
border:1px solid #ccc;
background: #f3f3f3;
/*color: #888888;*/
margin-top:8px;
}
#pc .article .unset-tab .information .intro1 ul{
border:unset !important;
background: unset !important;
}
/*#pc .article .parameter .information p {
font-size: 16px;
font-weight: bold;
line-height:40px;
}*/
#pc .article .parameter .information div {
font-size: 14px;
line-height: 20px;
}
#pc .article .parameter .information .intro2{
padding:25px;
border:1px solid #ccc;
}
#pc .article .parameter .package {
width: 250px;
height: 100%;
float: left;
padding-left:30px;
border-left:1px solid #ccc;
color: #565959 !important;
}
#pc .article .parameter .package img {
width: 100%;
height: 100px;
/* border: 1px solid #A8A39F;*/
}
#pc .article .parameter .package p {
font-size: 12px !important;
/* font-weight: bold;*/
line-height: 36px;
margin: 8px 0;
}
#pc .article .parameter .package ul {
width: 100%;
padding: 10px 20px 10px 30px;
border: 1px solid #AAAAAA;
border-radius: 5px;
margin:12px auto;
background: #f3f3f3;
}
#pc .article .parameter .package ul li {
font-size: 13px;
color: #000;
line-height: 20px;
}
#pc .article .comparison {
width: 100%;
margin-top: 50px;
margin-bottom: 15px;
}
#pc .article .comparison table {
width: 100%;
table-layout: fixed;
}
#pc .article .comparison table thead th {
/*width: 130px;*/
}
#pc .article .comparison table thead th img {
/*width: 150px;
height:300px;*/
border: 5px solid #fff;
width: 100%;
max-width: 150px;
}
#pc .article .comparison table thead th:nth-child(1) {
width: 150px;
}
#pc .article .comparison table tbody tr:first-child td {
color: #0265C0;
}
#pc .article .comparison table tbody td {
font-size: 13px;
color: #111030;
padding: 7px 20px;
text-align: center;
line-height: 20px;
}
/* #pc .article .comparison table tbody td:nth-child(1) {
color: #88888A;
background: #DCDCDC;
}*/
#pc .article .comparison table tbody tr:not(:first-child) td:not(first-child) {
background: #FEF5EC;
}
#pc .article .comparison table tbody tr:not(:first-child) td:first-child {
background: #DCDCDC;
color: #88888A;
}
#pc .article .comparison table td {
border-bottom: 1px solid #ccc;
word-wrap:break-word;word-break:break-all;
}
#pc .footer {
width: 1200px;
margin: 0 auto;
position: relative;
}
/* —- PC 纯CSS底部导航 start ——– */
#pc .footer .footer_bg {
width: 100%;
height: 52px;
background: #000;
}
#pc .footer > input,
#pc .footer > span {
position: absolute;
left: 0px;
top: 0px;
width: 160px;
height: 52px;
text-align: center;
line-height: 52px;
font-size: 12px;
color: #fff;
cursor: pointer;
}
#pc .footer input {
z-index: 10;
opacity: 0;
}
#pc .footer .inputnavs1,
#pc .footer .spannavs1 {
left: 113px;
}
#pc .footer .inputnavs2,
#pc .footer .spannavs2 {
left: 273px;
}
#pc .footer .inputnavs3,
#pc .footer .spannavs3 {
left: 433px;
}
#pc .footer .inputnavs4,
#pc .footer .spannavs4 {
left: 593px;
}
#pc .footer .inputnavs5,
#pc .footer .spannavs5 {
left: 753px;
}
#pc .footer .inputnavs6,
#pc .footer .spannavs6 {
left: 913px;
}
.inputnavs1:checked ~ .spannavs1 {
background: #2A2A2A;
}
.inputnavs1:checked ~ #shipping {
display: block;
}
.inputnavs2:checked ~ .spannavs2 {
background: #2A2A2A;
}
.inputnavs2:checked ~ #about {
display: block;
}
.inputnavs3:checked ~ .spannavs3 {
background: #2A2A2A;
}
.inputnavs3:checked ~ #payment {
display: block;
}
.inputnavs4:checked ~ .spannavs4 {
background: #2A2A2A;
}
.inputnavs4:checked ~ #returns {
display: block;
}
.inputnavs5:checked ~ .spannavs5 {
background: #2A2A2A;
}
.inputnavs5:checked ~ #contact {
display: block;
}
.inputnavs6:checked ~ .spannavs6 {
background: #2A2A2A;
}
.inputnavs6:checked ~ #faq {
display: block;
}
/* —- PC 纯CSS底部导航 end ——– */
.footer .ftcitem {
width: 970px;
margin: 0 auto;
display: none;
}
#pc .footer .about {
font-size: 14px;
line-height: 28px;
margin-top: 20px;
}
#pc .footer .returns{
line-height:28px;
}
#pc .footer .payment {
margin-top: 20px;
}
#pc .footer .payment li {
font-size: 14px;
line-height: 28px;
/* margin-top: 10px;*/
}
#pc .footer .payment li .pa {
font-weight: bold;
font-style: oblique;
font-size: 18px;
}
#pc .footer .payment li .pay {
color: #144774;
}
#pc .footer .payment li .pal {
color: #009ddb;
}
#pc .footer .shipping {
margin-top: 20px;
}
#pc .footer .shipping .ftmap {
width: 410px;
float: left;
}
#pc .footer .shipping .ftmap img {
width: 100%;
}
#pc .footer .shipping .ftinfo {
width: 100%;
width: 560px;
float: right;
padding-left: 26px;
}
#pc .footer .shipping .ftinfo > p {
/* height: 25px;*/
font-size: 1px;
line-height: 25px;
font-weight: bold;
}
#pc .footer .shipping .ftinfo .time {
height: 48px;
}
#pc .footer .shipping .ftinfo .time span {
font-size: 12px;
}
#pc .footer .shipping .ftinfo .time span:nth-child(1) {
font-size: 16px;
color: #c10400;
font-weight: bold;
margin-right: 30px;
}
#pc .footer .shipping .ftinfo .warehouse {
width: 100%;
height: 150px;
}
#pc .footer .shipping .ftinfo .warehouse p {
font-size: 14px;
line-height: 28px;
}
#pc .footer .shipping .ftinfo .warehouse div {
width: 200px;
height: 100px;
float: left;
border: 1px solid #ccc;
border-radius: 5px;
font-size: 12px;
color: #757575;
padding: 9px 4px;
margin-right: 4px;
}
#pc .footer .shipping .ftinfo .warehouse div:last-child {
margin-right: 0px;
}
#pc .footer .shipping .ftinfo .ftAdvntage,
#pc .footer .shipping .ftinfo .ftAttention {
width: 100%;
line-height: 25px;
}
#pc .footer .shipping .ftinfo .ftAdvntage p,
#pc .footer .shipping .ftinfo .ftAttention p {
font-size: 14px;
color: #CE0400;
}
#pc .footer .shipping .ftinfo .ftAdvntage span,
#pc .footer .shipping .ftinfo .ftAttention span {
font-size: 12px;
}
#pc .footer .shipping .ftinfo .ftAttention {
margin-top: 22px;
}
#pc .footer .returns {
margin-top: 20px;
font-size: 14px;
}
#pc .footer .contact {
font-size: 14px;
line-height: 28px;
margin-top:20px;
}
#pc .footer .faq {
margin-top: 20px;
}
#pc .footer .faq li {
font-size: 14px;
line-height: 28px;
/*list-style: none;*/
/* margin-top: 10px;*/
}
#pc .footer .faq li .colorEm {
color: #3faacc;
font-style: normal;
}
@media screen and (max-width: 750px) {
#mobile {
display: block;
}
#pc {
display: none;
}
}
.ytvideo * { box-sizing:border-box; }
.ytvideo { margin:.5em auto 40px auto; font-family:arial; text-align:center; position:relative; background-color:#555; }
.ytvideo p { position:absolute; margin:0; color:white; background-color:rgba(0,0,0,.5); }
.ytvideo .yt_hd { font-size:16px; width:100%; height:28px; line-height:28px; text-align:left; top:0; left:0; padding-left:10px; overflow:hidden; }
.ytvideo .yt_ft { font-size:12px; width:100%; bottom:0; left:0; } .ytvideo img { display:block; max-width:100%; border:0; }
.ytvideo a:after { content:"A025BA"; position:absolute; width:60px; height:50px; left:0; top:0; right:0; bottom:0; margin:auto; border:0; border-radius:10px; color:white; background:rgba(0,0,0,.6); font-size:24px; line-height:50px; cursor:pointer; } .ytvideo a:hover:after { background:#CC181E; } .ytvideo .yt_inp { position:absolute; top:100%; left:0; width:100%; text-align:center; padding:.5em .2em; xfont-size:18px; border:0; color:white; background: rgba(0,0,0,.7); } @media(max-device-width:960px){ .ytvideo { margin-bottom:60px; } .ytvideo .yt_inp { padding:1em .2em; } }
#mobile .ytvideo{margin-left: 15px;margin-right:15px;}
Product Description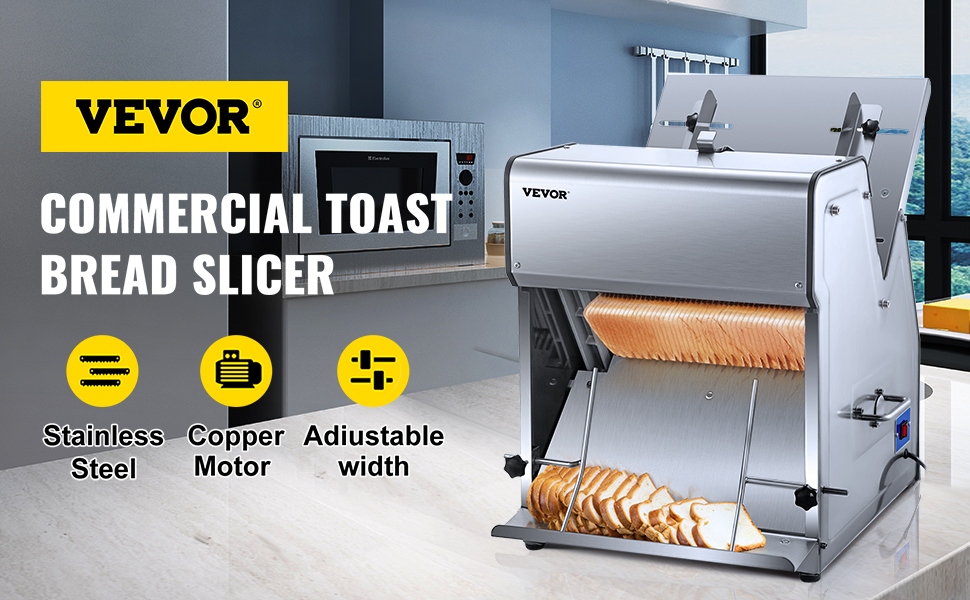 VEVOR Commercial Toast Bread Slicer Electric Bread Cutting Machine 1/2″ Slices – YouTube
Video will open in a new window
Using the Aliexpress App? Paste link into a browser window:
[isdntekvideo]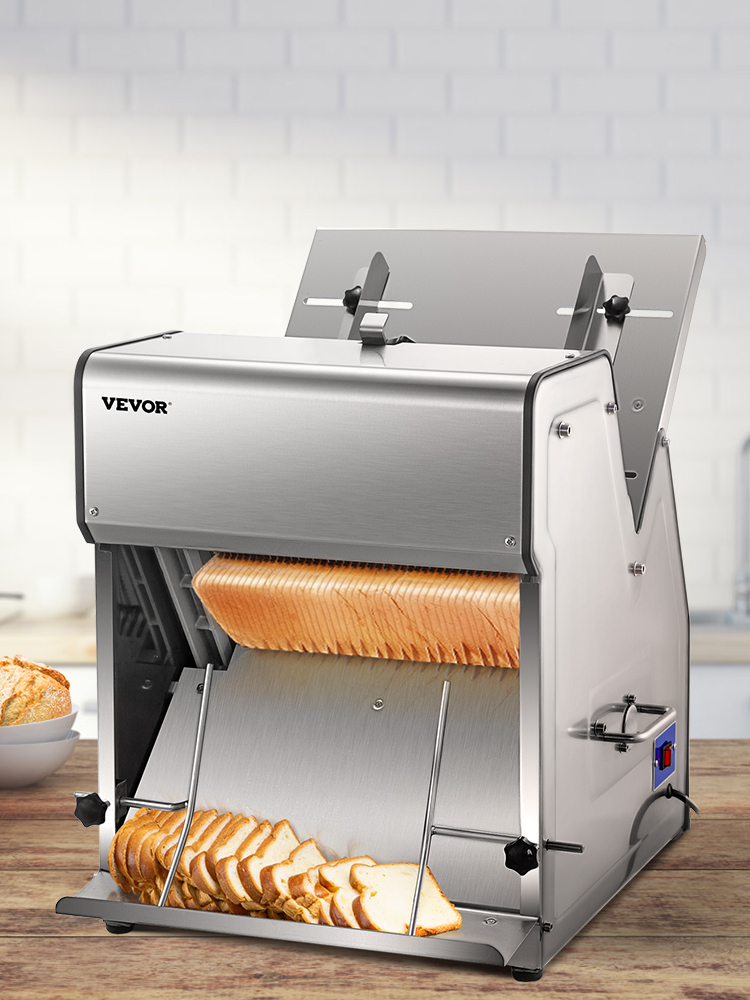 Electric Bread Cutting Machine
Ideal for bakeries, milk tea shops, loaf foods, processing plants, coffee shops, cake shops. Our commercial bread slicer can slice bread into 31pcs at one time, significantly saves time, and won't take up too much room in your kitchen. Slicing bread is easier than ever with this effective equipment that can slice loaves of bread in a single motion.
Note: Our bread slicer can cut toast breads and less sticky sandwiches, while it can't cut crusty breads and French baguettes. And it's better to cut the baked bread after it cools down.
304 Stainless Steel Material

370W Full Copper Motor

Adjustable Knobs

Sharp Blades
Tough Equipment & Tools, Pay Less
VEVOR is a leading brand that specializes in equipment and tools. Along with thousands of motivated employees, VEVOR is dedicated to providing our customers with tough equipment & tools at incredibly low prices. Today, VEVOR's products are sold in more than 200 countries and regions with 10 million plus members worldwide.
Why Choose VEVOR?
Premium Tough Quality

Incredibly Low Prices

Fast & Secure Delivery

30-Day Free Returns

24/7 Attentive Service
Key Features



304 Stainless Steel Material


The premium 304 stainless steel contributes to this bread slicer's durability, allows your slicer machine to stand up to the rigors of constant use.




370W Full Copper Motor


The 370-watt high-power pure-copper motor ensures quick and efficient bread slicing, which will shorten the waiting time and improve production.




Adjustable Knobs


By adjusting the knobs mounted at the outlet and inlet, you can slice the bread with the width of 110 mm-390 mm. The top knob also helps fix your bread during the operation process.



Sharp Blades


This commercial bread slicer adopts a stainless steel blade, slicing smoothly. Able to cut 31pcs bread at one time with 12 mm thickness.




Extra Two Blades & Non-slip Feet


We provide you with extra two blades for standby application. Four rubber foot pads help prevent slipperiness and remain machine steady.




Convenient Handles


Equipped with two handles mounted on both sides, you can easily lift and move the automatic electric bread slicer machine to anywhere you want.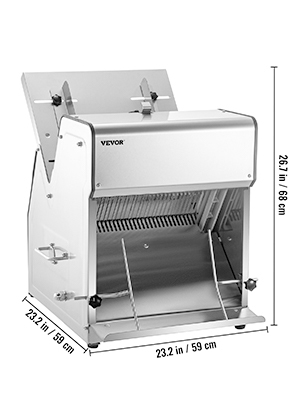 Specifications
Model:

YB-31

Material: 304 Stainless Steel

Color: Silver

Slice Thickness:

0.47 inch/

12 mm

Slice Number: 31 Pieces

Width Of The Bread:

4.3-15.4 inch/

110-390 mm
Item Dimension:

23.2 x 23.2 x 26.7 inch/

59 x 59 x 68 cm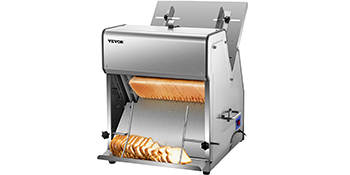 Package Content
1 x Commercial Toast Bread Slicer

2 x Blades
Features & Details
【PREMIUM MATERIAL】 – Our commercial bread slicer adopts 304 stainless steel material for enhanced durability, won't deform after long time usage. This is visually appealing unit fits any setting—the smooth surface allows easier cleaning and less complicated maintenance.

【POWERFUL PERFORMANCE】 – 370W powerful motor adopted, ensuring an efficient and fast bread slicing, let you keep up with your busiest hours throughout the day. This bread slicer machine uses a pure copper motor, features low noise and energy consumption, and is also more durable in use.

【ADJUSTABLE KNOBS】 – The knobs at the feet inlet and outlet can be easily adjusted according to your bread's length, with 110 mm-390 mm adjustable range. The top knob of this bread cutting machine helps adjust the inside pressure plate's height to fix the bread.

【EFFICIENT&EVEN CUTTING】 – Easily and quickly slice your bread with its sharp blades. This commercial bread slicer cutter can cut 31pcs at one time with 12 mm cutting thickness. Each slice is even and beautiful without leaving debris.

【WIDE APPLICATION】 – In addition to slice bread, you can also use it for cutting toast, cucumber, tomato, etc. Our automatic bread slicer machine is perfect for supermarkets, bakery, milk tea shop, loaf food, processing plants, coffee shop, cake shop to use. Handles mount on both sides, make it easy to move.
4 GREAT REASONS TO BUY FROM US:
Over 37,000

happy customers worldwide

Real people

on our support team ready to help

We proudly offer a full satisfaction guarantee.

Our highest priority is to make you happy, so every order comes with a 60-day money back guarantee!

100% Safety & Security Guaranteed.

At bestmarketjj.com, we take your security and privacy very seriously. Shop safely using the world's most popular and trustworthy payment methods!
BUY WITH CONFIDENCE
We truly believe in the best customer support, meaning we will do whatever it takes to make sure you have a positive purchase experience. We respond to emails within 24 hours and always make sure all your concerns are answered ASAP.
Easy Returns.

All our products are backed with 60-day money back guarantee. Just contact us and we will refund the purchase price.

Risk-Free Purchase:

Our Buyer Protection covers your purchase from click to delivery so you can shop with peace of mind.

100% Satisfaction Guarantee:

All our products are backed with 60-day money back guarantee. If for any reason you're not completely satisfied with your purchase, contact us for a product refund. We'll be more than happy to assist you.