body, div, ul, li, ol, h1, h2, h3, h4, h5, h6, input, textarea, select, p, dl, dt, dd, a, img, button, form, table, th, tr, td, tbody, article, aside, details, figcaption, figure, footer, header, menu, nav, section {
margin: 0;
padding: 0;
box-sizing: border-box;
}
.clearfix:before,
.clearfix:after {
content: "";
display: table;
}
.clearfix:after {
clear: both;
}
@font-face {
font-family: "iconfont";
src: url('iconfont.eot?t=1545182990006');
src: url('iconfont.eot?t=1545182990006#iefix') format('embedded-opentype'), /* IE6-IE8 */ url('data:application/x-font-woff;charset=utf-8;base64,d09GRgABAAAAAAQoAAsAAAAABmwAAQAAAAAAAAAAAAAAAAAAAAAAAAAAAABHU1VCAAABCAAAADMAAABCsP6z7U9TLzIAAAE8AAAARAAAAFY850hjY21hcAAAAYAAAABLAAABcOeZtv1nbHlmAAABzAAAAHgAAAB4lY+zvmhlYWQAAAJEAAAALgAAADYTnsQMaGhlYQAAAnQAAAAcAAAAJAfeA4NobXR4AAACkAAAAAgAAAAICAAAAGxvY2EAAAKYAAAABgAAAAYAPAAAbWF4cAAAAqAAAAAeAAAAIAEOAC5uYW1lAAACwAAAAUUAAAJtPlT+fXBvc3QAAAQIAAAAHwAAADDX3mJ6eJxjYGRgYOBikGPQYWB0cfMJYeBgYGGAAJAMY05meiJQDMoDyrGAaQ4gZoOIAgCKIwNPAHicY2BkYWCcwMDKwMHUyXSGgYGhH0IzvmYwYuRgYGBiYGVmwAoC0lxTGByeFT4rZG7438AQw9zA0AAUZgTJAQDuzQzFeJxjYGBgZWBgYAZiHSBmYWBgDGFgZAABP6AoI1icmYELLM7CoARWwwISf1b4/z+MBPJZwCQDIxvDKOABkzJQHjisIJiBEQA9SwstAAACAAD/iAPtA20AFQAhAAAFAT4BNS4BJw4BBx4BFzI2NwEWMjY0JS4BJz4BNx4BFw4BA9/+/yovBOaureYEBOatSYE1AQEOJBv9s4azAwOzhoezAwOzKgEBNYFIreYFBeatreYELyr+/w0bJNAEs4aHswMDs4eGs3icY2BkYGAAYiFDQb14fpuvDNwsDCBww/4AL4L+38HCwJwL5HIwMIFEAdWrCAAAAHicY2BkYGBu+N/AEMPCAAJAkpEBFTABAEcIAmsEAAAABAAAAAAAAAAAPAAAeJxjYGRgYGBiUAJiBjCLgYELCBkY/oP5DAAMAAE9AAB4nGWPTU7DMBCFX/oHpBKqqGCH5AViASj9EatuWFRq911036ZOmyqJI8et1ANwHo7ACTgC3IA78EgnmzaWx9+8eWNPANzgBx6O3y33kT1cMjtyDRe4F65TfxBukF+Em2jjVbhF/U3YxzOmwm10YXmD17hi9oR3YQ8dfAjXcI1P4Tr1L+EG+Vu4iTv8CrfQ8erCPuZeV7iNRy/2x1YvnF6p5UHFockikzm/gple75KFrdLqnGtbxCZTg6BfSVOdaVvdU+zXQ+ciFVmTqgmrOkmMyq3Z6tAFG+fyUa8XiR6EJuVYY/62xgKOcQWFJQ6MMUIYZIjK6Og7VWb0r7FDwl57Vj3N53RbFNT/c4UBAvTPXFO6stJ5Ok+BPV8bUnV0K27LnpQ0kV7NSRKyQl7WtlRC6gE2ZVeOEXpc0Yk/KGdI/wAJWm7IAAAAeJxjYGKAAC4G7ICJkYmRmYGtODWxKDmDgQEAEFwCkgA=') format('woff'), url('iconfont.ttf?t=1545182990006') format('truetype'), /* chrome, firefox, opera, Safari, Android, iOS 4.2+*/ url('iconfont.svg?t=1545182990006#iconfont') format('svg');
/* IE9*/
/* iOS 4.1- */
}
.iconfont {
font-family: "iconfont" !important;
font-size: 16px;
font-style: normal;
-webkit-font-smoothing: antialiased;
-moz-osx-font-smoothing: grayscale;
}
.icon-search:before {
content: "e671";
}
#mobile {
width: 375px;
/* max-width: 750px;
min-width: 320px;*/
margin: 0 auto;
display: none;
}
#mobile .header {
width: 100%;
}
#mobile .header h1 {
height: 40px;
line-height: 40px;
font-size: 20px;
padding-left: 10px;
}
#mobile .header p {
height: 25px;
line-height: 25px;
padding-left: 10px;
font-size: 13px;
}
#mobile .header .searchBox {
width: 90%;
height: 25px;
padding-left: 24px;
margin: 0 auto;
border: 1px solid #949494;
border-radius: 5px;
position: relative;
}
#mobile .header .searchBox i {
width: 25px;
height: 25px;
position: absolute;
left: 0;
top: 0;
text-align: center;
line-height: 25px;
font-size: 10px;
}
#mobile .header .searchBox input {
width: 100%;
height: 100%;
float: left;
border: none;
outline: none;
}
#mobile .items {
width: 100%;
}
#mobile .items h1 {
height: 40px;
line-height: 40px;
font-size: 16px;
padding-left: 17px;
margin-top: 10px;
}
#mobile .items > p {
height: 20px;
line-height: 20px;
font-size: 16px;
font-weight: bold;
padding-left: 17.5px;
margin-bottom: 15px;
}
#mobile .items .bgimg {
width: 90%;
margin: 0 auto;
}
#mobile .items .bgimg img {
width: 100%;
}
#mobile .items .bgimg ul {
margin-top: 15px;
border: 1px solid #ccc;
padding-left: 10px;
background-color: #F3F3F3;
border-radius: 5px;
}
#mobile .items .bgimg ul li {
list-style: none;
font-size: 13px;
padding-left: 1.5em;
position: relative;
}
#mobile .items .bgimg ul li::before {
position: absolute;
left: 0;
top: 4px;
width: 8px;
height: 8px;
content: "";
border-radius: 50%;
background: #949494;
}
/*#mobile .items .bgimg ul li:first-child {
font-weight: bold;
}*/
#mobile .items .feature {
width: 90%;
margin: 0 auto;
margin-top:20px;
}
#mobile .items .feature h1 {
font-size: 14px;
height: 40px;
line-height: 40px;
padding-left: 0;
}
#mobile .items .feature ul {
width: 100%;
}
#mobile .article .pro_desc{
font-size:16px;
font-weight:bold;
line-height:36px;
}
#mobile .items .feature ul li {
width: 100%;
list-style: none;
margin-bottom: 0.75rem;
margin-bottom:30px;
}
#mobile .items .feature ul li p:nth-child(1){
text-align: center;
}
#mobile .items .feature ul li .imgBox {
width: 100%;
padding: 0 25px;
}
#mobile .items .feature ul li .imgBox img {
width: 100%;
}
#mobile .items .feature ul li p {
font-size: 16px;
/* font-weight: bold;*/
padding-left: 0;
}
#mobile .items .feature ul li .info {
padding: 0 24px;
font-size: 13px;
position: relative;
}
#mobile .items .feature ul li .info::before {
position: absolute;
left: 0px;
top: 5px;
width: 8px;
height: 8px;
content: "";
border-radius: 50%;
background: #949494;
}
#mobile .specifications {
width: 90%;
margin: 0 auto;
}
#mobile .specifications h1 {
font-size: 16px;
}
#mobile .specifications .imgBox1 {
width: 100%;
}
#mobile .specifications .imgBox1 img {
width: 100%;
}
#mobile .specifications .imgBox1 p {
font-size: 13px;
color: #575757;
text-align: center;
}
#mobile .specifications .cares {
font-size: 16px;
color: #555555;
text-align: center;
margin:20px 0;
}
#mobile .specifications .imgBox1 .info {
font-size: 13px;
color: #555555;
margin: 10px 0;
}
#mobile .specifications .imgBox1 ul {
width: 100%;
padding: 18px;
/*border: 1px solid #ccc;
border-radius: 5px;*/
}
#mobile .specifications .imgBox1 ul li {
font-size: 14px;
color: #000;
}
#mobile .specifications .imgBox2 {
width: 100%;
}
#mobile .specifications .imgBox2 img {
width: 100%;
}
#mobile .specifications .imgBox2 .details i {
font-size: 13px;
color: #555555;
}
#mobile .specifications .friendly {
margin:5px 0px;
}
#mobile .specifications .friendly ul {
border: 1px solid #ccc;
border-radius: 5px;
padding: 8px;
background: #F3F3F3;
}
#mobile .specifications .friendly ul li {
margin-left: 20px;
font-size: 14px;
}
#mobile .specifications .imgBox2 .details ul {
width: 100%;
padding: 10px 0;
}
#mobile .specifications .imgBox2 .details ul li {
font-size: 13px;
color: #000;
list-style: none;
line-height: 25px;
}
#mobile .features {
width: 90%;
margin: 20px auto;
}
#mobile .features p {
font-size: 16px;
font-weight: bold;
}
#mobile .features ul li {
margin-left: 17.5px;
font-size: 13px;
text-indent: 6.5px;
}
#mobile .product {
width: 90%;
margin: 0 auto;
}
#mobile .product p {
font-size: 16px;
font-weight: bold;
}
#mobile .product .parameter1 {
padding-left: 16px;
}
#mobile .product .parameter1 tr td {
font-size: 13px;
padding: 10px 0;
text-align: center;
}
#mobile .product .parameter1 tr td:first-child {
width: 35%;
}
#mobile .footer {
overflow: auto;
}
#mobile .footer .parameter2 {
/* border-top: 1px solid #ccc;
border-left: 1px solid #ccc;*/
width: 730.7px;
}
#mobile .footer .parameter2 tbody td {
border-bottom: 1px solid #ccc;
/* border-right: 1px solid #ccc;*/
font-size: 13px;
text-align: center;
width: 120px;
word-wrap: break-word;
word-break: break-all;
padding: 5px;
}
#mobile .product1{
width: 90%;
margin: 10px auto;
padding: 5px;
/*border: 1px solid #ccc;
border-radius: 5px;*/
}
#mobile .product1 .introduction{
font-size:16px;
font-weight:bold;
line-height:40px;
}
#mobile .footer .parameter2 td:first-child {
width:110px;
color: #646464;
}
#mobile .footer .parameter2 thead img {
width: 100%;
height: 300px;
}
#mobile .footer .parameter2 thead p {
line-height: 25px;
font-size: 16px;
color: #0066BF;
text-align: center;
}
#mobile .footernav {
width: 100%;
padding-top: 30px;
}
#mobile .footernav .about,
#mobile .footernav .payment,
#mobile .footernav .shipping,
#mobile .footernav .returns,
#mobile .footernav .contact,
#mobile .footernav .faq {
width: 100%;
padding: 0 26px;
margin-bottom: 30px;
}
#mobile .footernav .about h1,
#mobile .footernav .payment h1,
#mobile .footernav .shipping h1,
#mobile .footernav .returns h1,
#mobile .footernav .contact h1,
#mobile .footernav .faq h1 {
font-size: 16px;
line-height: 30px;
}
#mobile .footernav .about .info {
font-size: 13px;
line-height: 20px;
padding-left: 10px;
}
#mobile .footernav .payment ul li {
list-style: outside;
font-size: 13px;
line-height: 20px;
margin-left: 20px;
margin-bottom: 10px;
}
#mobile .footernav .payment ul li .pa {
font-weight: bold;
font-style: oblique;
font-size: 16px;
}
#mobile .footernav .payment ul li .pay {
color: #144774;
}
#mobile .footernav .payment ul li .pal {
color: #009ddb;
}
#mobile .footernav .shipping .imgBox {
width: 100%;
padding: 20px;
}
#mobile .footernav .shipping .imgBox img {
width: 100%;
}
#mobile .footernav .shipping .infoBox {
width: 100%;
padding-left: 26px;
}
#mobile .footernav .shipping .infoBox > p {
line-height: 40px;
font-size: 13px;
font-weight: bold;
}
#mobile .footernav .shipping .infoBox .time {
width: 100%;
margin-bottom: 15px;
}
#mobile .footernav .shipping .infoBox .time span:first-child {
font-size: 16px;
color: red;
}
#mobile .footernav .shipping .infoBox .time span:last-child {
font-size: 13px;
margin-left: 5px;
}
#mobile .footernav .shipping .infoBox .warehouse P {
line-height: 30px;
}
#mobile .footernav .shipping .infoBox .warehouse div {
float: left;
width: 100%;
height: 45px;
font-size: 13px;
color: #757575;
border: 1px solid rgb(124, 120, 120);
border-radius: 5px;
margin-left: 10px;
margin-top: 10px;
padding: 5px;
}
#mobile .footernav .shipping .infoBox .ftAdvntage,
#mobile .footernav .shipping .infoBox .ftAttention {
width: 100%;
margin-top: 20px;
}
#mobile .footernav .shipping .infoBox .ftAdvntage p,
#mobile .footernav .shipping .infoBox .ftAttention p {
line-height: 30px;
font-size: 16px;
color: red;
}
#mobile .footernav .shipping .infoBox .ftAdvntage span,
#mobile .footernav .shipping .infoBox .ftAttention span {
line-height: 15px;
font-size: 13px;
}
#mobile .footernav .returns .infos,
#mobile .footernav .contact .infos,
#mobile .footernav .faq .infos {
font-size: 13px;
padding-left: 10px;
line-height: 20px;
}
#mobile .footernav .faq .infos li {
list-style: none;
font-size: 13px;
line-height: 25px;
margin-top: 10px;
}
#mobile .footernav .faq .infos li .colorEm {
color: #3faacc;
font-style: normal;
}
/*#mobile .footer .parameter2 tbody tr:last-child {
font-weight: bold;
color: #0D66C1;
}*/
/*#mobile .footer .parameter2 tbody td:first-child {
background: #DCDCDC;
}*/
#mobile .footer .parameter2 tbody tr:nth-child(2) td,
#mobile .footer .parameter2 tbody tr:nth-child(3) td,
#mobile .footer .parameter2 tbody tr:nth-child(4) td {
background: #FEF5EC;
}
#mobile .footer .parameter2 tbody tr:nth-child(2) td:first-child,
#mobile .footer .parameter2 tbody tr:nth-child(3) td:first-child,
#mobile .footer .parameter2 tbody tr:nth-child(4) td:first-child {
background: #DCDCDC;
}
#mobile .bginfo{
margin-top:10px;
}
#mobile .detail{
width: 90%;
margin: 0 auto;
}
#mobile .detail ul{
padding:0 15px;
}
#mobile .specifications .friendly ul{
margin:15px 0;
}
#mobile .specifications .friendly li{
margin:5px 0;
}
#pc .header {
width: 1200px;
height: 235px;
margin: 0 auto;
}
#pc .header .navBox {
width: 100%;
height: 50px;
background: #000000;
}
#pc .header .navBox ul {
width: 970px;
height: 50px;
border-bottom: 1px solid #53514C;
margin: 0 auto;
}
#pc .header .navBox ul li {
width: 25%;
height: 100%;
list-style: none;
float: left;
position: relative;
}
#pc .header .navBox ul li a {
width: 100%;
height: 100%;
display: block;
text-align: center;
padding-top: 10px;
color: #FEFEFE;
font-size: 11px;
text-decoration: none;
}
#pc .header .navBox ul li a p {
font-weight: bold;
}
#pc .header .navBox ul li i {
position: absolute;
right: 0;
bottom: 12px;
width: 1px;
height: 20px;
background: #53514C;
}
#pc .header .logoBox {
width: 100%;
height: 130px;
background: #000;
}
#pc .header .logoBox .imgBox {
width: 970px;
height: 130px;
margin: 0 auto;
}
#pc .header .logoBox .imgBox .left {
width: 470px;
height: 100%;
float: left;
}
#pc .header .logoBox .imgBox .right {
width: 500px;
height: 100%;
float: right;
}
#pc .header .iconBox {
width: 100%;
height: 55px;
background: #252525;
}
#pc .header .iconBox .centerBox {
width: 970px;
height: 100%;
margin: 0 auto;
}
#pc .header .iconBox .centerBox .left {
width: 334px;
height: 100%;
float: left;
padding: 0px 50px;
}
#pc .header .iconBox .centerBox .left .img {
float: left;
height: 100%;
padding-top: 5px;
}
#pc .header .iconBox .centerBox .left .info {
float: left;
color: #fff;
margin-left: 18px;
}
#pc .header .iconBox .centerBox .left .info p {
font-size: 18px;
line-height: 18px;
font-weight: bold;
margin-top: 7px;
}
#pc .header .iconBox .centerBox .left .info span {
font-size: 14px;
display: block;
}
#pc .header .iconBox .centerBox .right {
width: 572px;
height: 100%;
float: right;
}
#pc .header .iconBox .centerBox .right .img {
float: left;
height: 100%;
padding-top: 9px;
}
#pc .header .iconBox .centerBox .right .info,
#pc .header .iconBox .centerBox .right .hours {
color: #fff;
}
#pc .header .iconBox .centerBox .right .info p,
#pc .header .iconBox .centerBox .right .hours p {
font-size: 18px;
font-weight: bold;
line-height: 30px;
}
#pc .header .iconBox .centerBox .right .info span,
#pc .header .iconBox .centerBox .right .hours span {
font-size: 11px;
float: left;
}
#pc .header .iconBox .centerBox .right .info {
height: 100%;
float: left;
margin-left: 26px;
}
#pc .header .iconBox .centerBox .right .info span:last-child {
margin-left: 20px;
}
#pc .header .iconBox .centerBox .right .hours {
height: 100%;
float: left;
margin-left: 50px;
position: relative;
}
#pc .header .iconBox .centerBox .right .hours::before {
content: "";
width: 1px;
height: 40px;
background: #fff;
position: absolute;
left: -25px;
top: 7px;
}
#pc .article {
width: 970px;
font-family: Arial, sans-serif;
margin: 0 auto;
word-wrap:break-word;
}
#pc .article .mapBox {
width: 100%;
height: 374px;
background-color: #fff;
}
#pc .article .mapBox .left {
width: 450px;
height: 100%;
float: left;
padding-top: 50px;
position: relative;
}
#pc .article .mapBox .left span {
font-size: 11px;
font-weight: bold;
color: #000;
position: absolute;
}
#pc .article .mapBox .left span.ca {
left: 20px;
bottom: 125px;
}
#pc .article .mapBox .left span.tx {
left: 198px;
bottom: 78px;
}
#pc .article .mapBox .left span.ky {
left: 264px;
bottom: 160px;
}
#pc .article .mapBox .left span.nj {
right: 58px;
top: 154px;
}
#pc .article .mapBox .right {
width: 520px;
height: 100%;
float: right;
}
#pc .article .mapBox .right h1 {
font-size: 18px;
color: #900900;
margin-top: 40px;
margin-left: 7px;
}
#pc .article .mapBox .right .listBox {
width: 100%;
height: 113px;
border: 1px solid #CFCAC0;
margin-top: 17px;
padding-top: 13px;
padding-left: 22px;
}
#pc .article .mapBox .right .listBox div {
width: 100px;
float: left;
font-size: 12px;
margin-right: 24px;
line-height: 20px;
}
#pc .article .mapBox .right .listBox div p {
font-weight: bold;
}
#pc .article .mapBox .right .advantage,
#pc .article .mapBox .right .attention {
padding-left: 7px;
font-size: 12px;
line-height: 20px;
margin-top: 15px;
}
#pc .article .mapBox .right .advantage p,
#pc .article .mapBox .right .attention p {
font-weight: bold;
}
#pc .article .bgimgBox {
width: 100%;
background-color: #fff;
position: relative;
}
#pc .article .pro_desc{
font-size:16px;
font-weight:bold;
line-height:36px;
}
#pc .article .bgimgBox .bginfo {
position: absolute;
right: 50px;
top: 125px;
width: 250px;
max-height: 300px;
background-color: rgba(255,255,255,.7);
color: #000;
/*word-break: break-all;*/
padding: 10px;
/*overflow: hidden;
transform: translateY(-50%);*/
}
#pc .article .bgimgBox img {
width: 100%;
margin-top:15px;
}
#pc .article .product {
width: 100%;
line-height: 19px;
margin-top: 5px;
margin-bottom:20px;
}
/* #pc .article .product .introduction {
font-size: 14px;
font-weight: bold;
}
#pc .article .product div {
font-size: 12px;
}*/
#pc .article .features {
width: 100%;
margin-top: 15px;
}
#pc .article .features h1 {
font-size: 16px;
}
#pc .article .features ul li {
width: 250px;
float: left;
list-style: none;
margin-top: 30px;
line-height: 19px;
/*height:498px;*/
}
#pc .product1{
line-height: 19px;
}
#pc .product1 .introduction{
font-size:16px;
font-weight:bold;
line-height:40px;
}
#pc .article .features ul li:nth-child(3n-1) {
margin-left: 35px;
margin-right: 35px;
}
#pc .article .features ul li .imgBox {
width: 100%;
height: 300px;
border: 1px solid #A8A39F;
}
/*#pc .article .features ul li p {
font-size: 12px;
line-height: 34px;
}*/
#pc .article .features ul li div {
font-size: 10px;
line-height: 20px;
}
#pc .article .parameter {
width: 100%;
margin-top: 40px;
margin-bottom: 30px;
}
#pc .article .parameter .imgBox {
width: 300px;
height: 400px;
float: left;
}
#pc .article .parameter .imgBox img {
width: 100%;
height: 100%;
}
#pc .article .parameter .information {
width: 250px;
height: 100%;
float: left;
padding-right: 25px;
padding-left: 40px;
}
#pc .article .parameter .information .intro1{
margin:20px auto;
}
#pc .article .parameter .information .intro1 ul{
padding:10px 40px;
border-radius:5px;
border:1px solid #ccc;
background: #f3f3f3;
/*color: #888888;*/
margin-top:8px;
}
/*#pc .article .parameter .information p {
font-size: 16px;
font-weight: bold;
line-height:40px;
}*/
#pc .article .parameter .information div {
font-size: 10px;
line-height: 20px;
}
#pc .article .parameter .information .intro2{
padding:25px;
border:1px solid #ccc;
}
#pc .article .parameter .package {
width: 250px;
height: 100%;
float: left;
padding-left:25px;
border-left:1px solid #ccc;
}
#pc .article .parameter .package img {
width: 100%;
height: 100px;
/* border: 1px solid #A8A39F;*/
}
#pc .article .parameter .package p {
font-size: 16px;
/* font-weight: bold;*/
line-height: 36px;
}
#pc .article .parameter .package ul {
width: 100%;
padding: 10px 20px 10px 30px;
border: 1px solid #AAAAAA;
border-radius: 5px;
margin:12px auto;
}
#pc .article .parameter .package ul li {
font-size: 10px;
color: #000;
line-height: 20px;
}
#pc .article .comparison {
width: 100%;
margin-top: 50px;
margin-bottom: 15px;
}
#pc .article .comparison table {
width: 100%;
table-layout: fixed;
}
#pc .article .comparison table thead th {
/*width: 130px;*/
}
#pc .article .comparison table thead th img {
/*width: 150px;
height:300px;*/
border: 5px solid #fff;
width: 100%;
max-width: 150px;
}
#pc .article .comparison table thead th:nth-child(1) {
width: 150px;
}
#pc .article .comparison table tbody tr:first-child td {
color: #0265C0;
}
#pc .article .comparison table tbody td {
font-size: 13px;
color: #111030;
padding: 7px 20px;
text-align: center;
line-height: 20px;
}
/* #pc .article .comparison table tbody td:nth-child(1) {
color: #88888A;
background: #DCDCDC;
}*/
#pc .article .comparison table tbody tr:not(:first-child) td:not(first-child) {
background: #FEF5EC;
}
#pc .article .comparison table tbody tr:not(:first-child) td:first-child {
background: #DCDCDC;
color: #88888A;
}
#pc .article .comparison table td {
border-bottom: 1px solid #ccc;
word-wrap:break-word;word-break:break-all;
}
#pc .footer {
width: 1200px;
margin: 0 auto;
position: relative;
}
/* —- PC 纯CSS底部导航 start ——– */
#pc .footer .footer_bg {
width: 100%;
height: 52px;
background: #000;
}
#pc .footer > input,
#pc .footer > span {
position: absolute;
left: 0px;
top: 0px;
width: 160px;
height: 52px;
text-align: center;
line-height: 52px;
font-size: 12px;
color: #fff;
cursor: pointer;
}
#pc .footer input {
z-index: 10;
opacity: 0;
}
#pc .footer .inputnavs1,
#pc .footer .spannavs1 {
left: 113px;
}
#pc .footer .inputnavs2,
#pc .footer .spannavs2 {
left: 273px;
}
#pc .footer .inputnavs3,
#pc .footer .spannavs3 {
left: 433px;
}
#pc .footer .inputnavs4,
#pc .footer .spannavs4 {
left: 593px;
}
#pc .footer .inputnavs5,
#pc .footer .spannavs5 {
left: 753px;
}
#pc .footer .inputnavs6,
#pc .footer .spannavs6 {
left: 913px;
}
.inputnavs1:checked ~ .spannavs1 {
background: #2A2A2A;
}
.inputnavs1:checked ~ #shipping {
display: block;
}
.inputnavs2:checked ~ .spannavs2 {
background: #2A2A2A;
}
.inputnavs2:checked ~ #about {
display: block;
}
.inputnavs3:checked ~ .spannavs3 {
background: #2A2A2A;
}
.inputnavs3:checked ~ #payment {
display: block;
}
.inputnavs4:checked ~ .spannavs4 {
background: #2A2A2A;
}
.inputnavs4:checked ~ #returns {
display: block;
}
.inputnavs5:checked ~ .spannavs5 {
background: #2A2A2A;
}
.inputnavs5:checked ~ #contact {
display: block;
}
.inputnavs6:checked ~ .spannavs6 {
background: #2A2A2A;
}
.inputnavs6:checked ~ #faq {
display: block;
}
/* —- PC 纯CSS底部导航 end ——– */
.footer .ftcitem {
width: 970px;
margin: 0 auto;
display: none;
}
#pc .footer .about {
font-size: 14px;
line-height: 28px;
margin-top: 20px;
}
#pc .footer .returns{
line-height:28px;
}
#pc .footer .payment {
margin-top: 20px;
}
#pc .footer .payment li {
font-size: 14px;
line-height: 28px;
/* margin-top: 10px;*/
}
#pc .footer .payment li .pa {
font-weight: bold;
font-style: oblique;
font-size: 18px;
}
#pc .footer .payment li .pay {
color: #144774;
}
#pc .footer .payment li .pal {
color: #009ddb;
}
#pc .footer .shipping {
margin-top: 20px;
}
#pc .footer .shipping .ftmap {
width: 410px;
float: left;
}
#pc .footer .shipping .ftmap img {
width: 100%;
}
#pc .footer .shipping .ftinfo {
width: 100%;
width: 560px;
float: right;
padding-left: 26px;
}
#pc .footer .shipping .ftinfo > p {
/* height: 25px;*/
font-size: 1px;
line-height: 25px;
font-weight: bold;
}
#pc .footer .shipping .ftinfo .time {
height: 48px;
}
#pc .footer .shipping .ftinfo .time span {
font-size: 12px;
}
#pc .footer .shipping .ftinfo .time span:nth-child(1) {
font-size: 16px;
color: #c10400;
font-weight: bold;
margin-right: 30px;
}
#pc .footer .shipping .ftinfo .warehouse {
width: 100%;
height: 150px;
}
#pc .footer .shipping .ftinfo .warehouse p {
font-size: 14px;
line-height: 28px;
}
#pc .footer .shipping .ftinfo .warehouse div {
width: 200px;
height: 100px;
float: left;
border: 1px solid #ccc;
border-radius: 5px;
font-size: 12px;
color: #757575;
padding: 9px 4px;
margin-right: 4px;
}
#pc .footer .shipping .ftinfo .warehouse div:last-child {
margin-right: 0px;
}
#pc .footer .shipping .ftinfo .ftAdvntage,
#pc .footer .shipping .ftinfo .ftAttention {
width: 100%;
line-height: 25px;
}
#pc .footer .shipping .ftinfo .ftAdvntage p,
#pc .footer .shipping .ftinfo .ftAttention p {
font-size: 14px;
color: #CE0400;
}
#pc .footer .shipping .ftinfo .ftAdvntage span,
#pc .footer .shipping .ftinfo .ftAttention span {
font-size: 12px;
}
#pc .footer .shipping .ftinfo .ftAttention {
margin-top: 22px;
}
#pc .footer .returns {
margin-top: 20px;
font-size: 14px;
}
#pc .footer .contact {
font-size: 14px;
line-height: 28px;
margin-top:20px;
}
#pc .footer .faq {
margin-top: 20px;
}
#pc .footer .faq li {
font-size: 14px;
line-height: 28px;
/*list-style: none;*/
/* margin-top: 10px;*/
}
#pc .footer .faq li .colorEm {
color: #3faacc;
font-style: normal;
}
@media screen and (max-width: 750px) {
#mobile {
display: block;
}
#pc {
display: none;
}
}
.ytvideo * { box-sizing:border-box; }
.ytvideo { margin:.5em auto 40px auto; font-family:arial; text-align:center; position:relative; background-color:#555; }
.ytvideo p { position:absolute; margin:0; color:white; background-color:rgba(0,0,0,.5); }
.ytvideo .yt_hd { font-size:16px; width:100%; height:28px; line-height:28px; text-align:left; top:0; left:0; padding-left:10px; overflow:hidden; }
.ytvideo .yt_ft { font-size:12px; width:100%; bottom:0; left:0; } .ytvideo img { display:block; max-width:100%; border:0; }
.ytvideo a:after { content:"A025BA"; position:absolute; width:60px; height:50px; left:0; top:0; right:0; bottom:0; margin:auto; border:0; border-radius:10px; color:white; background:rgba(0,0,0,.6); font-size:24px; line-height:50px; cursor:pointer; } .ytvideo a:hover:after { background:#CC181E; } .ytvideo .yt_inp { position:absolute; top:100%; left:0; width:100%; text-align:center; padding:.5em .2em; xfont-size:18px; border:0; color:white; background: rgba(0,0,0,.7); } @media(max-device-width:960px){ .ytvideo { margin-bottom:60px; } .ytvideo .yt_inp { padding:1em .2em; } }
#mobile .ytvideo{margin-left: 15px;margin-right:15px;}
<!–
SHIP FROM
CA & TX & NJ & KY
DELIVERY 1-3 DAYS US 48 STATES
DELIVERY DAYS : 1-4 DAYS
COURIER : FEDEX AND UPS
–>
<!–
City of Industry,CA
Houston,TX
Hebron,KY
Perth Amboy,NJ
–>
Product Description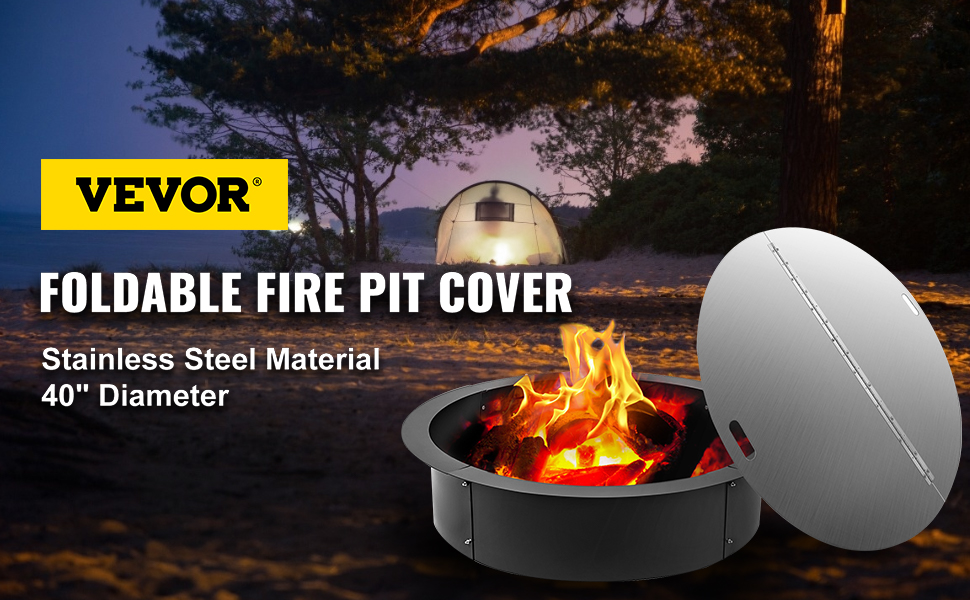 <!–
Product Description:
–>
Features & Details
【STAINLESS STEEL MATERIAL】- Sturdy fire pit lid made of commercial-grade 430 stainless steel, 3 mm in thickness, and can quickly extinguish the flame in the fire pit. Corrosion and wear-resistant, won't deform easily. It stands up to any weather condition and can withstand a long time of use.

【EXACT FITMENT】- Perfectly fits securely over your fire pit with its size of 40″ diameter (1016 mm) and guards your fire glass from leaves, bird droppings, dust, and other debris. Meanwhile, the fire pit can isolate most of the water, but not 100%.

【CONVENIENT USAGE】- Foldable fire pit with a durable hinge is effortless to open and close. The built-in handle attached to the lid facilitates its movement.

【DESIGNED FOR SAFETY】- Unlike lids with poor quality, this fire pit cover owns a round edge, which invisibly provides protection and avoids injuries that could cause by poor quality covers.

【EXQUISITE AND UTILITY】- Sleek stainless steel cover with brushed surface, perfectly blends in patio surroundings and leisure atmosphere. It is also an excellent tool for family decoration. It is providing satisfying internal circulation performance.
Key Features
430 Stainless Steel Material

Top grade 430 stainless steel sturdy cover, water, rust and deformation proof. Easy cleaning and stays put in all kinds of weathers.

Brilliantly Fits 40 Inch Fire Pit

40-inch (1016 mm) diameter in size. Brilliantly fits your fire pit with corresponding size and provides secure seal.

Foldable Design

This lid is designed to be folable with a folded size of 40″x20″x0.4″ (1016x508x10 mm). No need to take it off to open.

Convenient Handle

Two handles slots are built oppositely on the lid, thus alowing convenient removal and easy carrying.


Mellow Border

Round corners and edges secretly guard your safety and put an end to injuries that might have been caused by poor quality covers.

Stylish and Practical

Sleek design cover perfectly fits in your pit and blends in the patio and garden surroundings while internal circulation effect assured.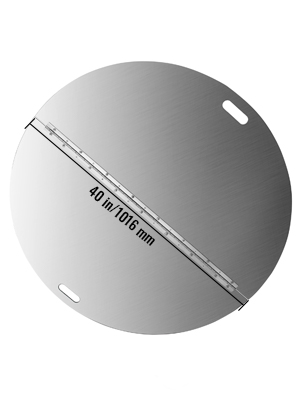 Fire Pit Cover
Fire pit burner pan cover for covering and protecting fire pit pans in outdoor uses. Constructed with high quality 430 stainless steel with smooth brushed surface to ensure durability under extreme temperatures & weather conditions. Will not lose color or rust. Solid handle equipped for convenient usage.
Stainless Steel Material

Exact Fitment

Convenient Usage

Designed for Safety

Exquisite and Utility
<!–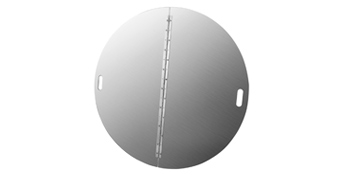 Package Content
–>
Specifications
Material: 430 stainless steel

Cover Diameter Size : 40 Inch (

1016 mm

)
Folded Size: 40 x 20 x 0.4 Inch (

1016x508x10 mm

)

Material Thickness: 0.12 Inch (3 mm)
Package Content
1 x Foldable Fire Pit Pan Cover
Multiple Sizes Fire Ring
Multiple Sizes Fire Ring
Fire Pit Ring Cover
21″x 21″ Fire Pit Cover
33"X 13"Fire Pit Cover
Fire Pit Cover 20″ Diameter
Round
Square,Rectangle
Square,Rectangle,Round
Square
Rectangle
Round
Shape
Metal Steel
Tempered Glass
430 Stainless Steel
430 Stainless Steel
430 Stainless Steel
430 Stainless Steel
Material
24 ,36 ,42 ,45 Inch
6 Sizes
Multiple sizes
21 X 21 X 1 inch
33 X 13 X 1 Inch
19.68 Inch Diameter
4 GREAT REASONS TO BUY FROM US:
Over 37,000

happy customers worldwide

Real people

on our support team ready to help

We proudly offer a full satisfaction guarantee.

Our highest priority is to make you happy, so every order comes with a 60-day money back guarantee!

100% Safety & Security Guaranteed.

At bestmarketjj.com, we take your security and privacy very seriously. Shop safely using the world's most popular and trustworthy payment methods!
BUY WITH CONFIDENCE
We truly believe in the best customer support, meaning we will do whatever it takes to make sure you have a positive purchase experience. We respond to emails within 24 hours and always make sure all your concerns are answered ASAP.
Easy Returns.

All our products are backed with 60-day money back guarantee. Just contact us and we will refund the purchase price.

Risk-Free Purchase:

Our Buyer Protection covers your purchase from click to delivery so you can shop with peace of mind.

100% Satisfaction Guarantee:

All our products are backed with 60-day money back guarantee. If for any reason you're not completely satisfied with your purchase, contact us for a product refund. We'll be more than happy to assist you.