body, div, ul, li, ol, h1, h2, h3, h4, h5, h6, input, textarea, select, p, dl, dt, dd, a, img, button, form, table, th, tr, td, tbody, article, aside, details, figcaption, figure, footer, header, menu, nav, section {
margin: 0;
padding: 0;
box-sizing: border-box;
}
.clearfix:before,
.clearfix:after {
content: "";
display: table;
}
.clearfix:after {
clear: both;
}
@font-face {
font-family: "iconfont";
src: url('iconfont.eot?t=1545182990006');
src: url('iconfont.eot?t=1545182990006#iefix') format('embedded-opentype'), /* IE6-IE8 */ url('data:application/x-font-woff;charset=utf-8;base64,d09GRgABAAAAAAQoAAsAAAAABmwAAQAAAAAAAAAAAAAAAAAAAAAAAAAAAABHU1VCAAABCAAAADMAAABCsP6z7U9TLzIAAAE8AAAARAAAAFY850hjY21hcAAAAYAAAABLAAABcOeZtv1nbHlmAAABzAAAAHgAAAB4lY+zvmhlYWQAAAJEAAAALgAAADYTnsQMaGhlYQAAAnQAAAAcAAAAJAfeA4NobXR4AAACkAAAAAgAAAAICAAAAGxvY2EAAAKYAAAABgAAAAYAPAAAbWF4cAAAAqAAAAAeAAAAIAEOAC5uYW1lAAACwAAAAUUAAAJtPlT+fXBvc3QAAAQIAAAAHwAAADDX3mJ6eJxjYGRgYOBikGPQYWB0cfMJYeBgYGGAAJAMY05meiJQDMoDyrGAaQ4gZoOIAgCKIwNPAHicY2BkYWCcwMDKwMHUyXSGgYGhH0IzvmYwYuRgYGBiYGVmwAoC0lxTGByeFT4rZG7438AQw9zA0AAUZgTJAQDuzQzFeJxjYGBgZWBgYAZiHSBmYWBgDGFgZAABP6AoI1icmYELLM7CoARWwwISf1b4/z+MBPJZwCQDIxvDKOABkzJQHjisIJiBEQA9SwstAAACAAD/iAPtA20AFQAhAAAFAT4BNS4BJw4BBx4BFzI2NwEWMjY0JS4BJz4BNx4BFw4BA9/+/yovBOaureYEBOatSYE1AQEOJBv9s4azAwOzhoezAwOzKgEBNYFIreYFBeatreYELyr+/w0bJNAEs4aHswMDs4eGs3icY2BkYGAAYiFDQb14fpuvDNwsDCBww/4AL4L+38HCwJwL5HIwMIFEAdWrCAAAAHicY2BkYGBu+N/AEMPCAAJAkpEBFTABAEcIAmsEAAAABAAAAAAAAAAAPAAAeJxjYGRgYGBiUAJiBjCLgYELCBkY/oP5DAAMAAE9AAB4nGWPTU7DMBCFX/oHpBKqqGCH5AViASj9EatuWFRq911036ZOmyqJI8et1ANwHo7ACTgC3IA78EgnmzaWx9+8eWNPANzgBx6O3y33kT1cMjtyDRe4F65TfxBukF+Em2jjVbhF/U3YxzOmwm10YXmD17hi9oR3YQ8dfAjXcI1P4Tr1L+EG+Vu4iTv8CrfQ8erCPuZeV7iNRy/2x1YvnF6p5UHFockikzm/gple75KFrdLqnGtbxCZTg6BfSVOdaVvdU+zXQ+ciFVmTqgmrOkmMyq3Z6tAFG+fyUa8XiR6EJuVYY/62xgKOcQWFJQ6MMUIYZIjK6Og7VWb0r7FDwl57Vj3N53RbFNT/c4UBAvTPXFO6stJ5Ok+BPV8bUnV0K27LnpQ0kV7NSRKyQl7WtlRC6gE2ZVeOEXpc0Yk/KGdI/wAJWm7IAAAAeJxjYGKAAC4G7ICJkYmRmYGtODWxKDmDgQEAEFwCkgA=') format('woff'), url('iconfont.ttf?t=1545182990006') format('truetype'), /* chrome, firefox, opera, Safari, Android, iOS 4.2+*/ url('iconfont.svg?t=1545182990006#iconfont') format('svg');
/* IE9*/
/* iOS 4.1- */
}
.iconfont {
font-family: "iconfont" !important;
font-size: 16px;
font-style: normal;
-webkit-font-smoothing: antialiased;
-moz-osx-font-smoothing: grayscale;
}
.icon-search:before {
content: "e671";
}
#mobile {
width: 375px;
/* max-width: 750px;
min-width: 320px;*/
margin: 0 auto;
display: none;
}
#mobile .header {
width: 100%;
}
#mobile .header h1 {
height: 40px;
line-height: 40px;
font-size: 20px;
padding-left: 10px;
}
#mobile .header p {
height: 25px;
line-height: 25px;
padding-left: 10px;
font-size: 13px;
}
#mobile .header .searchBox {
width: 90%;
height: 25px;
padding-left: 24px;
margin: 0 auto;
border: 1px solid #949494;
border-radius: 5px;
position: relative;
}
#mobile .header .searchBox i {
width: 25px;
height: 25px;
position: absolute;
left: 0;
top: 0;
text-align: center;
line-height: 25px;
font-size: 10px;
}
#mobile .header .searchBox input {
width: 100%;
height: 100%;
float: left;
border: none;
outline: none;
}
#mobile .items {
width: 100%;
}
#mobile .items h1 {
height: 40px;
line-height: 40px;
font-size: 16px;
padding-left: 17px;
margin-top: 10px;
}
#mobile .items > p {
height: 20px;
line-height: 20px;
font-size: 16px;
font-weight: bold;
padding-left: 17.5px;
margin-bottom: 15px;
}
#mobile .items .bgimg {
width: 90%;
margin: 0 auto;
}
#mobile .items .bgimg img {
width: 100%;
}
#mobile .items .bgimg ul {
margin-top: 15px;
border: 1px solid #ccc;
padding-left: 10px;
background-color: #F3F3F3;
border-radius: 5px;
}
#mobile .items .bgimg ul li {
list-style: none;
font-size: 13px;
padding-left: 1.5em;
position: relative;
}
#mobile .items .bgimg ul li::before {
position: absolute;
left: 0;
top: 4px;
width: 8px;
height: 8px;
content: "";
border-radius: 50%;
background: #949494;
}
/*#mobile .items .bgimg ul li:first-child {
font-weight: bold;
}*/
#mobile .items .feature {
width: 90%;
margin: 0 auto;
margin-top:20px;
}
#mobile .items .feature h1 {
font-size: 14px;
height: 40px;
line-height: 40px;
padding-left: 0;
}
#mobile .items .feature ul {
width: 100%;
}
#mobile .article .pro_desc{
font-size:16px;
font-weight:bold;
line-height:36px;
}
#mobile .items .feature ul li {
width: 100%;
list-style: none;
margin-bottom: 0.75rem;
margin-bottom:30px;
}
#mobile .items .feature ul li p:nth-child(1){
text-align: center;
}
#mobile .items .feature ul li .imgBox {
width: 100%;
padding: 0 25px;
}
#mobile .items .feature ul li .imgBox img {
width: 100%;
}
#mobile .items .feature ul li p {
font-size: 16px;
/* font-weight: bold;*/
padding-left: 0;
}
#mobile .items .feature ul li .info {
padding: 0 24px;
font-size: 13px;
position: relative;
}
#mobile .items .feature ul li .info::before {
position: absolute;
left: 0px;
top: 5px;
width: 8px;
height: 8px;
content: "";
border-radius: 50%;
background: #949494;
}
#mobile .specifications {
width: 90%;
margin: 0 auto;
}
#mobile .specifications h1 {
font-size: 16px;
}
#mobile .specifications .imgBox1 {
width: 100%;
}
#mobile .specifications .imgBox1 img {
width: 100%;
}
#mobile .specifications .imgBox1 p {
font-size: 13px;
color: #575757;
text-align: center;
}
#mobile .specifications .cares {
font-size: 16px;
color: #555555;
text-align: center;
margin:20px 0;
}
#mobile .specifications .imgBox1 .info {
font-size: 13px;
color: #555555;
margin: 10px 0;
}
#mobile .specifications .imgBox1 ul {
width: 100%;
padding: 18px;
/*border: 1px solid #ccc;
border-radius: 5px;*/
}
#mobile .specifications .imgBox1 ul li {
font-size: 14px;
color: #000;
}
#mobile .specifications .imgBox2 {
width: 100%;
}
#mobile .specifications .imgBox2 img {
width: 100%;
}
#mobile .specifications .imgBox2 .details i {
font-size: 13px;
color: #555555;
}
#mobile .specifications .friendly {
margin:5px 0px;
}
#mobile .specifications .friendly ul {
border: 1px solid #ccc;
border-radius: 5px;
padding: 8px;
background: #F3F3F3;
}
#mobile .specifications .friendly ul li {
margin-left: 20px;
font-size: 14px;
}
#mobile .specifications .imgBox2 .details ul {
width: 100%;
padding: 10px 0;
}
#mobile .specifications .imgBox2 .details ul li {
font-size: 13px;
color: #000;
list-style: none;
line-height: 25px;
}
#mobile .features {
width: 90%;
margin: 20px auto;
}
#mobile .features p {
font-size: 16px;
font-weight: bold;
}
#mobile .features ul li {
margin-left: 17.5px;
font-size: 13px;
text-indent: 6.5px;
}
#mobile .product {
width: 90%;
margin: 0 auto;
}
#mobile .product p {
font-size: 16px;
font-weight: bold;
}
#mobile .product .parameter1 {
padding-left: 16px;
}
#mobile .product .parameter1 tr td {
font-size: 13px;
padding: 10px 0;
text-align: center;
}
#mobile .product .parameter1 tr td:first-child {
width: 35%;
}
#mobile .footer {
overflow: auto;
}
#mobile .footer .parameter2 {
/* border-top: 1px solid #ccc;
border-left: 1px solid #ccc;*/
width: 730.7px;
}
#mobile .footer .parameter2 tbody td {
border-bottom: 1px solid #ccc;
/* border-right: 1px solid #ccc;*/
font-size: 13px;
text-align: center;
width: 120px;
word-wrap: break-word;
word-break: break-all;
padding: 5px;
}
#mobile .product1{
width: 90%;
margin: 10px auto;
padding: 5px;
/*border: 1px solid #ccc;
border-radius: 5px;*/
}
#mobile .product1 .introduction{
font-size:16px;
font-weight:bold;
line-height:40px;
}
#mobile .footer .parameter2 td:first-child {
width:110px;
color: #646464;
}
#mobile .footer .parameter2 thead img {
width: 100%;
height: 300px;
}
#mobile .footer .parameter2 thead p {
line-height: 25px;
font-size: 16px;
color: #0066BF;
text-align: center;
}
#mobile .footernav {
width: 100%;
padding-top: 30px;
}
#mobile .footernav .about,
#mobile .footernav .payment,
#mobile .footernav .shipping,
#mobile .footernav .returns,
#mobile .footernav .contact,
#mobile .footernav .faq {
width: 100%;
padding: 0 26px;
margin-bottom: 30px;
}
#mobile .footernav .about h1,
#mobile .footernav .payment h1,
#mobile .footernav .shipping h1,
#mobile .footernav .returns h1,
#mobile .footernav .contact h1,
#mobile .footernav .faq h1 {
font-size: 16px;
line-height: 30px;
}
#mobile .footernav .about .info {
font-size: 13px;
line-height: 20px;
padding-left: 10px;
}
#mobile .footernav .payment ul li {
list-style: outside;
font-size: 13px;
line-height: 20px;
margin-left: 20px;
margin-bottom: 10px;
}
#mobile .footernav .payment ul li .pa {
font-weight: bold;
font-style: oblique;
font-size: 16px;
}
#mobile .footernav .payment ul li .pay {
color: #144774;
}
#mobile .footernav .payment ul li .pal {
color: #009ddb;
}
#mobile .footernav .shipping .imgBox {
width: 100%;
padding: 20px;
}
#mobile .footernav .shipping .imgBox img {
width: 100%;
}
#mobile .footernav .shipping .infoBox {
width: 100%;
padding-left: 26px;
}
#mobile .footernav .shipping .infoBox > p {
line-height: 40px;
font-size: 13px;
font-weight: bold;
}
#mobile .footernav .shipping .infoBox .time {
width: 100%;
margin-bottom: 15px;
}
#mobile .footernav .shipping .infoBox .time span:first-child {
font-size: 16px;
color: red;
}
#mobile .footernav .shipping .infoBox .time span:last-child {
font-size: 13px;
margin-left: 5px;
}
#mobile .footernav .shipping .infoBox .warehouse P {
line-height: 30px;
}
#mobile .footernav .shipping .infoBox .warehouse div {
float: left;
width: 100%;
height: 45px;
font-size: 13px;
color: #757575;
border: 1px solid rgb(124, 120, 120);
border-radius: 5px;
margin-left: 10px;
margin-top: 10px;
padding: 5px;
}
#mobile .footernav .shipping .infoBox .ftAdvntage,
#mobile .footernav .shipping .infoBox .ftAttention {
width: 100%;
margin-top: 20px;
}
#mobile .footernav .shipping .infoBox .ftAdvntage p,
#mobile .footernav .shipping .infoBox .ftAttention p {
line-height: 30px;
font-size: 16px;
color: red;
}
#mobile .footernav .shipping .infoBox .ftAdvntage span,
#mobile .footernav .shipping .infoBox .ftAttention span {
line-height: 15px;
font-size: 13px;
}
#mobile .footernav .returns .infos,
#mobile .footernav .contact .infos,
#mobile .footernav .faq .infos {
font-size: 13px;
padding-left: 10px;
line-height: 20px;
}
#mobile .footernav .faq .infos li {
list-style: none;
font-size: 13px;
line-height: 25px;
margin-top: 10px;
}
#mobile .footernav .faq .infos li .colorEm {
color: #3faacc;
font-style: normal;
}
/*#mobile .footer .parameter2 tbody tr:last-child {
font-weight: bold;
color: #0D66C1;
}*/
/*#mobile .footer .parameter2 tbody td:first-child {
background: #DCDCDC;
}*/
#mobile .footer .parameter2 tbody tr:nth-child(2) td,
#mobile .footer .parameter2 tbody tr:nth-child(3) td,
#mobile .footer .parameter2 tbody tr:nth-child(4) td {
background: #FEF5EC;
}
#mobile .footer .parameter2 tbody tr:nth-child(2) td:first-child,
#mobile .footer .parameter2 tbody tr:nth-child(3) td:first-child,
#mobile .footer .parameter2 tbody tr:nth-child(4) td:first-child {
background: #DCDCDC;
}
#mobile .bginfo{
margin-top:10px;
}
#mobile .detail{
width: 90%;
margin: 0 auto;
}
#mobile .detail ul{
padding:0 15px;
}
#mobile .specifications .friendly ul{
margin:15px 0;
}
#mobile .specifications .friendly li{
margin:5px 0;
}
#pc .header {
width: 1200px;
height: 235px;
margin: 0 auto;
}
#pc .header .navBox {
width: 100%;
height: 50px;
background: #000000;
}
#pc .header .navBox ul {
width: 970px;
height: 50px;
border-bottom: 1px solid #53514C;
margin: 0 auto;
}
#pc .header .navBox ul li {
width: 25%;
height: 100%;
list-style: none;
float: left;
position: relative;
}
#pc .header .navBox ul li a {
width: 100%;
height: 100%;
display: block;
text-align: center;
padding-top: 10px;
color: #FEFEFE;
font-size: 11px;
text-decoration: none;
}
#pc .header .navBox ul li a p {
font-weight: bold;
}
#pc .header .navBox ul li i {
position: absolute;
right: 0;
bottom: 12px;
width: 1px;
height: 20px;
background: #53514C;
}
#pc .header .logoBox {
width: 100%;
height: 130px;
background: #000;
}
#pc .header .logoBox .imgBox {
width: 970px;
height: 130px;
margin: 0 auto;
}
#pc .header .logoBox .imgBox .left {
width: 470px;
height: 100%;
float: left;
}
#pc .header .logoBox .imgBox .right {
width: 500px;
height: 100%;
float: right;
}
#pc .header .iconBox {
width: 100%;
height: 55px;
background: #252525;
}
#pc .header .iconBox .centerBox {
width: 970px;
height: 100%;
margin: 0 auto;
}
#pc .header .iconBox .centerBox .left {
width: 334px;
height: 100%;
float: left;
padding: 0px 50px;
}
#pc .header .iconBox .centerBox .left .img {
float: left;
height: 100%;
padding-top: 5px;
}
#pc .header .iconBox .centerBox .left .info {
float: left;
color: #fff;
margin-left: 18px;
}
#pc .header .iconBox .centerBox .left .info p {
font-size: 18px;
line-height: 18px;
font-weight: bold;
margin-top: 7px;
}
#pc .header .iconBox .centerBox .left .info span {
font-size: 14px;
display: block;
}
#pc .header .iconBox .centerBox .right {
width: 572px;
height: 100%;
float: right;
}
#pc .header .iconBox .centerBox .right .img {
float: left;
height: 100%;
padding-top: 9px;
}
#pc .header .iconBox .centerBox .right .info,
#pc .header .iconBox .centerBox .right .hours {
color: #fff;
}
#pc .header .iconBox .centerBox .right .info p,
#pc .header .iconBox .centerBox .right .hours p {
font-size: 18px;
font-weight: bold;
line-height: 30px;
}
#pc .header .iconBox .centerBox .right .info span,
#pc .header .iconBox .centerBox .right .hours span {
font-size: 11px;
float: left;
}
#pc .header .iconBox .centerBox .right .info {
height: 100%;
float: left;
margin-left: 26px;
}
#pc .header .iconBox .centerBox .right .info span:last-child {
margin-left: 20px;
}
#pc .header .iconBox .centerBox .right .hours {
height: 100%;
float: left;
margin-left: 50px;
position: relative;
}
#pc .header .iconBox .centerBox .right .hours::before {
content: "";
width: 1px;
height: 40px;
background: #fff;
position: absolute;
left: -25px;
top: 7px;
}
#pc .article {
width: 970px;
font-family: Arial, sans-serif;
margin: 0 auto;
word-wrap:break-word;
}
#pc .article .mapBox {
width: 100%;
height: 374px;
background-color: #fff;
}
#pc .article .mapBox .left {
width: 450px;
height: 100%;
float: left;
padding-top: 50px;
position: relative;
}
#pc .article .mapBox .left span {
font-size: 11px;
font-weight: bold;
color: #000;
position: absolute;
}
#pc .article .mapBox .left span.ca {
left: 20px;
bottom: 125px;
}
#pc .article .mapBox .left span.tx {
left: 198px;
bottom: 78px;
}
#pc .article .mapBox .left span.ky {
left: 264px;
bottom: 160px;
}
#pc .article .mapBox .left span.nj {
right: 58px;
top: 154px;
}
#pc .article .mapBox .right {
width: 520px;
height: 100%;
float: right;
}
#pc .article .mapBox .right h1 {
font-size: 18px;
color: #900900;
margin-top: 40px;
margin-left: 7px;
}
#pc .article .mapBox .right .listBox {
width: 100%;
height: 113px;
border: 1px solid #CFCAC0;
margin-top: 17px;
padding-top: 13px;
padding-left: 22px;
}
#pc .article .mapBox .right .listBox div {
width: 100px;
float: left;
font-size: 12px;
margin-right: 24px;
line-height: 20px;
}
#pc .article .mapBox .right .listBox div p {
font-weight: bold;
}
#pc .article .mapBox .right .advantage,
#pc .article .mapBox .right .attention {
padding-left: 7px;
font-size: 12px;
line-height: 20px;
margin-top: 15px;
}
#pc .article .mapBox .right .advantage p,
#pc .article .mapBox .right .attention p {
font-weight: bold;
}
#pc .article .bgimgBox {
width: 100%;
background-color: #fff;
position: relative;
}
#pc .article .pro_desc{
font-size:16px;
font-weight:bold;
line-height:36px;
}
#pc .article .bgimgBox .bginfo {
position: absolute;
right: 50px;
top: 125px;
width: 250px;
max-height: 300px;
background-color: rgba(255,255,255,.7);
color: #000;
/*word-break: break-all;*/
padding: 10px;
/*overflow: hidden;
transform: translateY(-50%);*/
}
#pc .article .bgimgBox img {
width: 100%;
margin-top:15px;
}
#pc .article .product {
width: 100%;
line-height: 19px;
margin-top: 5px;
margin-bottom:30px;
}
/* #pc .article .product .introduction {
font-size: 14px;
font-weight: bold;
}
#pc .article .product div {
font-size: 12px;
}*/
#pc .article .features {
width: 100%;
margin-top: 30px;
}
#pc .article .features h1 {
font-size: 16px;
}
#pc .article .features ul li {
width: 250px;
float: left;
list-style: none;
margin-top: 30px;
line-height: 19px;
/*height:498px;*/
}
#pc .product1{
line-height: 19px;
}
#pc .product1 .introduction{
font-size:16px;
font-weight:bold;
line-height:40px;
}
#pc .article .features ul li:nth-child(3n-1) {
margin-left: 35px;
margin-right: 35px;
}
#pc .article .features ul li .imgBox {
width: 100%;
height: 300px;
border: 1px solid #A8A39F;
}
/*#pc .article .features ul li p {
font-size: 12px;
line-height: 34px;
}*/
#pc .article .features ul li div {
font-size: 10px;
line-height: 20px;
}
#pc .article .parameter {
width: 100%;
margin-top: 40px;
/*margin-bottom: 30px;*/
}
#pc .article .parameter .imgBox {
width: 300px;
height: 400px;
float: left;
}
#pc .article .parameter .imgBox img {
width: 100%;
height: 100%;
}
#pc .article .parameter .information {
width: 250px;
height: 100%;
float: left;
padding-right: 25px;
padding-left: 0.5cm;
}
#pc .article .parameter .information .intro1{
margin:6px auto;
}
#pc .article .parameter .information .intro1 ul{
padding:10px 40px;
border-radius:5px;
border:1px solid #ccc;
background: #f3f3f3;
/*color: #888888;*/
margin-top:8px;
}
#pc .article .unset-tab .information .intro1 ul{
border:unset !important;
background: unset !important;
}
/*#pc .article .parameter .information p {
font-size: 16px;
font-weight: bold;
line-height:40px;
}*/
#pc .article .parameter .information div {
font-size: 14px;
line-height: 20px;
}
#pc .article .parameter .information .intro2{
padding:25px;
border:1px solid #ccc;
}
#pc .article .parameter .package {
width: 250px;
height: 100%;
float: left;
padding-left:30px;
border-left:1px solid #ccc;
color: #565959 !important;
}
#pc .article .parameter .package img {
width: 100%;
height: 100px;
/* border: 1px solid #A8A39F;*/
}
#pc .article .parameter .package p {
font-size: 12px !important;
/* font-weight: bold;*/
line-height: 36px;
margin: 8px 0;
}
#pc .article .parameter .package ul {
width: 100%;
padding: 10px 20px 10px 30px;
border: 1px solid #AAAAAA;
border-radius: 5px;
margin:12px auto;
background: #f3f3f3;
}
#pc .article .parameter .package ul li {
font-size: 13px;
color: #000;
line-height: 20px;
}
#pc .article .comparison {
width: 100%;
margin-top: 50px;
margin-bottom: 15px;
}
#pc .article .comparison table {
width: 100%;
table-layout: fixed;
}
#pc .article .comparison table thead th {
/*width: 130px;*/
}
#pc .article .comparison table thead th img {
/*width: 150px;
height:300px;*/
border: 5px solid #fff;
width: 100%;
max-width: 150px;
}
#pc .article .comparison table thead th:nth-child(1) {
width: 150px;
}
#pc .article .comparison table tbody tr:first-child td {
color: #0265C0;
}
#pc .article .comparison table tbody td {
font-size: 13px;
color: #111030;
padding: 7px 20px;
text-align: center;
line-height: 20px;
}
/* #pc .article .comparison table tbody td:nth-child(1) {
color: #88888A;
background: #DCDCDC;
}*/
#pc .article .comparison table tbody tr:not(:first-child) td:not(first-child) {
background: #FEF5EC;
}
#pc .article .comparison table tbody tr:not(:first-child) td:first-child {
background: #DCDCDC;
color: #88888A;
}
#pc .article .comparison table td {
border-bottom: 1px solid #ccc;
word-wrap:break-word;word-break:break-all;
}
#pc .footer {
width: 1200px;
margin: 0 auto;
position: relative;
}
/* —- PC 纯CSS底部导航 start ——– */
#pc .footer .footer_bg {
width: 100%;
height: 52px;
background: #000;
}
#pc .footer > input,
#pc .footer > span {
position: absolute;
left: 0px;
top: 0px;
width: 160px;
height: 52px;
text-align: center;
line-height: 52px;
font-size: 12px;
color: #fff;
cursor: pointer;
}
#pc .footer input {
z-index: 10;
opacity: 0;
}
#pc .footer .inputnavs1,
#pc .footer .spannavs1 {
left: 113px;
}
#pc .footer .inputnavs2,
#pc .footer .spannavs2 {
left: 273px;
}
#pc .footer .inputnavs3,
#pc .footer .spannavs3 {
left: 433px;
}
#pc .footer .inputnavs4,
#pc .footer .spannavs4 {
left: 593px;
}
#pc .footer .inputnavs5,
#pc .footer .spannavs5 {
left: 753px;
}
#pc .footer .inputnavs6,
#pc .footer .spannavs6 {
left: 913px;
}
.inputnavs1:checked ~ .spannavs1 {
background: #2A2A2A;
}
.inputnavs1:checked ~ #shipping {
display: block;
}
.inputnavs2:checked ~ .spannavs2 {
background: #2A2A2A;
}
.inputnavs2:checked ~ #about {
display: block;
}
.inputnavs3:checked ~ .spannavs3 {
background: #2A2A2A;
}
.inputnavs3:checked ~ #payment {
display: block;
}
.inputnavs4:checked ~ .spannavs4 {
background: #2A2A2A;
}
.inputnavs4:checked ~ #returns {
display: block;
}
.inputnavs5:checked ~ .spannavs5 {
background: #2A2A2A;
}
.inputnavs5:checked ~ #contact {
display: block;
}
.inputnavs6:checked ~ .spannavs6 {
background: #2A2A2A;
}
.inputnavs6:checked ~ #faq {
display: block;
}
/* —- PC 纯CSS底部导航 end ——– */
.footer .ftcitem {
width: 970px;
margin: 0 auto;
display: none;
}
#pc .footer .about {
font-size: 14px;
line-height: 28px;
margin-top: 20px;
}
#pc .footer .returns{
line-height:28px;
}
#pc .footer .payment {
margin-top: 20px;
}
#pc .footer .payment li {
font-size: 14px;
line-height: 28px;
/* margin-top: 10px;*/
}
#pc .footer .payment li .pa {
font-weight: bold;
font-style: oblique;
font-size: 18px;
}
#pc .footer .payment li .pay {
color: #144774;
}
#pc .footer .payment li .pal {
color: #009ddb;
}
#pc .footer .shipping {
margin-top: 20px;
}
#pc .footer .shipping .ftmap {
width: 410px;
float: left;
}
#pc .footer .shipping .ftmap img {
width: 100%;
}
#pc .footer .shipping .ftinfo {
width: 100%;
width: 560px;
float: right;
padding-left: 26px;
}
#pc .footer .shipping .ftinfo > p {
/* height: 25px;*/
font-size: 1px;
line-height: 25px;
font-weight: bold;
}
#pc .footer .shipping .ftinfo .time {
height: 48px;
}
#pc .footer .shipping .ftinfo .time span {
font-size: 12px;
}
#pc .footer .shipping .ftinfo .time span:nth-child(1) {
font-size: 16px;
color: #c10400;
font-weight: bold;
margin-right: 30px;
}
#pc .footer .shipping .ftinfo .warehouse {
width: 100%;
height: 150px;
}
#pc .footer .shipping .ftinfo .warehouse p {
font-size: 14px;
line-height: 28px;
}
#pc .footer .shipping .ftinfo .warehouse div {
width: 200px;
height: 100px;
float: left;
border: 1px solid #ccc;
border-radius: 5px;
font-size: 12px;
color: #757575;
padding: 9px 4px;
margin-right: 4px;
}
#pc .footer .shipping .ftinfo .warehouse div:last-child {
margin-right: 0px;
}
#pc .footer .shipping .ftinfo .ftAdvntage,
#pc .footer .shipping .ftinfo .ftAttention {
width: 100%;
line-height: 25px;
}
#pc .footer .shipping .ftinfo .ftAdvntage p,
#pc .footer .shipping .ftinfo .ftAttention p {
font-size: 14px;
color: #CE0400;
}
#pc .footer .shipping .ftinfo .ftAdvntage span,
#pc .footer .shipping .ftinfo .ftAttention span {
font-size: 12px;
}
#pc .footer .shipping .ftinfo .ftAttention {
margin-top: 22px;
}
#pc .footer .returns {
margin-top: 20px;
font-size: 14px;
}
#pc .footer .contact {
font-size: 14px;
line-height: 28px;
margin-top:20px;
}
#pc .footer .faq {
margin-top: 20px;
}
#pc .footer .faq li {
font-size: 14px;
line-height: 28px;
/*list-style: none;*/
/* margin-top: 10px;*/
}
#pc .footer .faq li .colorEm {
color: #3faacc;
font-style: normal;
}
@media screen and (max-width: 750px) {
#mobile {
display: block;
}
#pc {
display: none;
}
}
.ytvideo * { box-sizing:border-box; }
.ytvideo { margin:.5em auto 40px auto; font-family:arial; text-align:center; position:relative; background-color:#555; }
.ytvideo p { position:absolute; margin:0; color:white; background-color:rgba(0,0,0,.5); }
.ytvideo .yt_hd { font-size:16px; width:100%; height:28px; line-height:28px; text-align:left; top:0; left:0; padding-left:10px; overflow:hidden; }
.ytvideo .yt_ft { font-size:12px; width:100%; bottom:0; left:0; } .ytvideo img { display:block; max-width:100%; border:0; }
.ytvideo a:after { content:"A025BA"; position:absolute; width:60px; height:50px; left:0; top:0; right:0; bottom:0; margin:auto; border:0; border-radius:10px; color:white; background:rgba(0,0,0,.6); font-size:24px; line-height:50px; cursor:pointer; } .ytvideo a:hover:after { background:#CC181E; } .ytvideo .yt_inp { position:absolute; top:100%; left:0; width:100%; text-align:center; padding:.5em .2em; xfont-size:18px; border:0; color:white; background: rgba(0,0,0,.7); } @media(max-device-width:960px){ .ytvideo { margin-bottom:60px; } .ytvideo .yt_inp { padding:1em .2em; } }
#mobile .ytvideo{margin-left: 15px;margin-right:15px;}
Product Description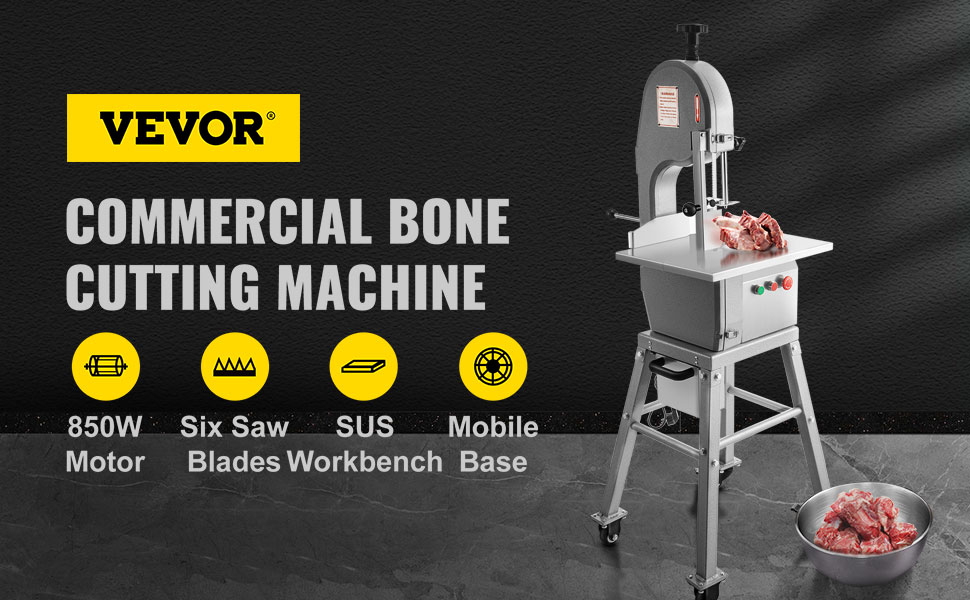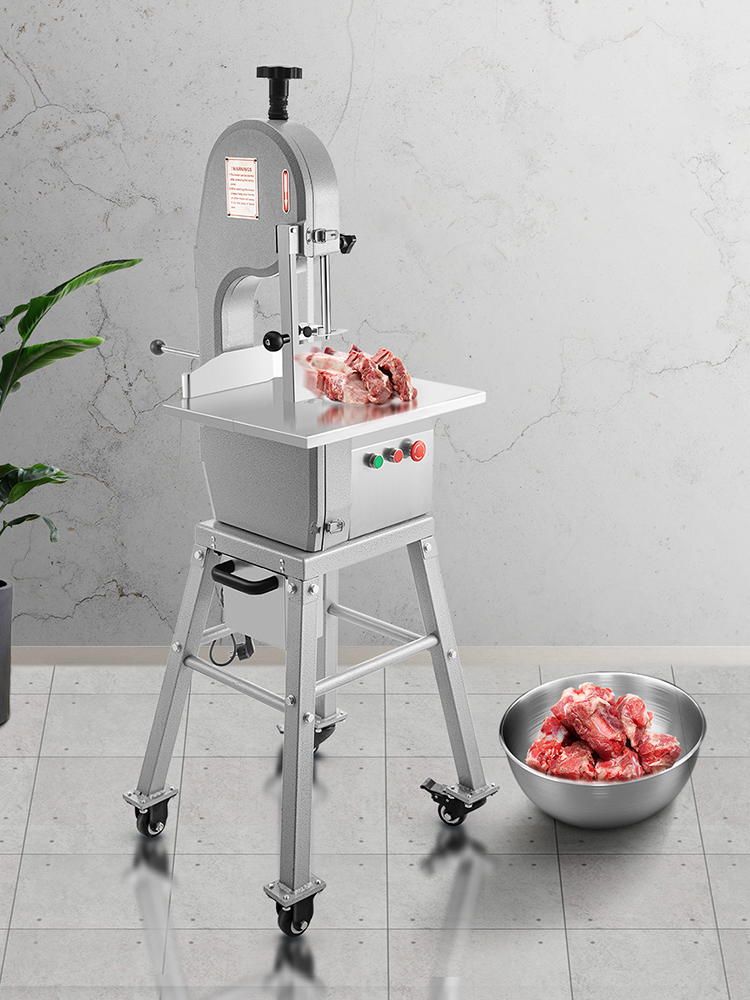 Commercial Bone Cutting Machine
This bone saw machine is specially designed for cutting frozen meat and bones into smaller pieces. It features a sturdy cast aluminum body and a large 304 stainless steel workbench, built to last and easy to clean. The mobile base with casters brings a lot of conveniences for movement. It is Ideal for processing any meat, frozen or fresh, and widely used in butcher's shops, guesthouses, hotels, food processing factories, slaughterhouses, etc.
S

US

Workbench

w

ith Scales

Detachable & Mobile Design

Six Premium Bandsaw Blades

Powerful Motor & Perfect Protection

Easily Handle Meat & Bones
Tough Equipment & Tools, Pay Less
VEVOR is a leading brand that specializes in equipment and tools. Along with thousands of motivated employees, VEVOR is dedicated to providing our customers with tough equipment & tools at incredibly low prices. Today, VEVOR's products are sold in more than 200 countries and regions with 10 million plus members worldwide.
Why Choose VEVOR?
Premium Tough Quality

Incredibly Low Prices

Fast & Secure Delivery

30-Day Free Returns

24/7 Attentive Service
Key Features



Large Stainless Steel Workbench


The food-grade stainless steel workbench is 18.3×14.4 in (465×365 mm) in size, providing extensive stacking space. The precise scales ranging from 0.2 in (4 mm) to 7.1 in (180 mm) and the movable side pushing plate are convenient for adjusting the cutting thickness.




Mobile Base & Drawer-Type Box


Beneath the meat cutting bandsaw is an additional base, mobile and detachable. Four casters (two with brake) can enhance its movement. The drawer-type collecting box, around 2.85 Qt (2.7 L) in capacity, is large enough for holding the bone scraps and meat leftovers.




Six Interchangeable Saw Blades




The sharp-cutting saw blade (6 pieces in all) is driven by a large gear inside, measuring 8.3 in (210 mm) in diameter. Its rotating speed reaches 748 in (19 m) per second, cutting bones and frozen meat effortlessly. The saw blade tension system and retainer are adjustable during operation.



Strong 850W Pure-Copper Motor




The 850W motor can provide sufficient power for our bone sawing machine, ensuring higher efficiency and lower noise. Stored in a separate compartment, it runs more stably and quietly in comparison to those bared ones. Thus, extended service life and simple maintenance can be assured.




Considerate Protective Parts




Aided by the security lock, E-stop button, and built-in protection sensor, you just need to press down the button and open the protective cover when the meat cutting saw goes wrong. It will terminate the operation automatically and timely. The pushing slab can also avoid hand injuries.




Perfect for Various Ingredients




Our commercial electric meat bandsaw is not only suitable for sawing large objects like hard bones of the pigs, sheep, cattle, and other livestock but also ideal for cutting those smaller articles, such as frozen meat, frozen fish, ribs, pigs' feet, chicken, ducks, and tubular bones, etc.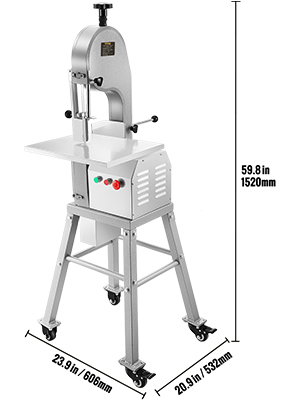 Specifications
Model: JG-210C

Power: 850W (1.14 hp)

Voltage: 110V / 60Hz

Material: Cast Aluminum+304 Stainless Steel

Workbench Size: 18.3×14.4 in (465×365 mm)

Saw Blade Size: 65×0.6 in (1650×16 mm)

Saw Blade Speed: 748 in (19 m) per Second

Gear Diameter: 8.3 in (210 mm)

Cutting Thickness Range: 0.2~7.1 in (4-18 mm)

Collecting Box Capacity: 2.85 Qt (2.7 L)

Collecting Box Dimensions: 6.9×4.1×5.9 in (174x105x150 cm)

Product Dimensions: 23.9×20.9×59.8 in (606x532x1520 mm)

Product Weight: 113.5 lbs (51.5 kg)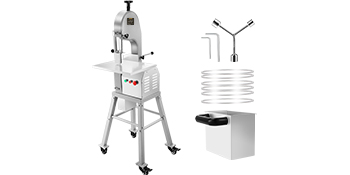 Package Content
1 x Bone Saw Machine

5 x Additional Saw Blades

1 x Set of Wrench
Features & Details
SUS Workbench with Scales: Our commercial meat band saw integrates a large 304 stainless steel workbench, built to last and easy to clean. It measures 18.3×14.4 inches (465×365 mm) in size, providing you with ample operating space. Clear scale marks are engraved on the tabletop, indicating the precise cutting thickness range: 0.2~7.1 inch (4~180 mm). Through adjusting the pushing plate on the side, you can cut the bones or frozen meat & fish into large or small pieces as you wish.

Detachable & Mobile Design: Our electric bone-cutting machine comes with a mobile base with casters, greatly facilitating the device's movement. The detachable base serves as a freely movable worktable in your kitchen, reducing the trouble of finding other places for settling it. You can also separate them and put the electric bone saw on the table. Besides, a drawer-type collecting box is below the base. Its 2.85 Qt (2.7 L) capacity is sufficient to hold the bone scraps during your operation.
Six Premium Bandsaw Blades: To achieve efficient sawing, we adopt a large gear (8.3 inches / 210 mm in diameter) and sharp cutting blades (65×0.6 inch / 1650×16 mm in size). Apart from a saw blade already installed, another five pieces are offered for replacement. The tension system and retainer for adjusting the blades are equipped to improve your user experience. Tip: Before use, please rotate the adjuster on the top to tighten the saw blade inside because it may get loosen during shipment.

Powerful Motor & Protection: Fueled by the 850W motor, the saw blade's rotating speed reaches 748 inches (19 m) per second. Protective designs are considerately combined in our electric bone saw, such as the separate compartment for protecting the motor and E-stop button for reducing accidents caused by malfunctions. The machine will stop when the cover is opened. And the ergonomic pushing slab (11.8 inches / 300 mm long) is excellent for cutting hard frozen meat & bone without hurting your hand.

Easily Handle Meat & Bones: Composed of cast aluminum body and food-grade 304 stainless steel workbench, our commercial bone cutting machine enjoys strong durability and ensures long-time use. Not only is it suitable for sawing the hard bones of the pigs, sheep, cattle, and other livestock, but it is also perfect for cutting objects in smaller sizes, such as frozen meat, frozen fish, ribs, pigs' feet, chicken, ducks, and tubular bones, etc.
4 GREAT REASONS TO BUY FROM US:
Over 37,000

happy customers worldwide

Real people

on our support team ready to help

We proudly offer a full satisfaction guarantee.

Our highest priority is to make you happy, so every order comes with a 60-day money back guarantee!

100% Safety & Security Guaranteed.

At bestmarketjj.com, we take your security and privacy very seriously. Shop safely using the world's most popular and trustworthy payment methods!
BUY WITH CONFIDENCE
We truly believe in the best customer support, meaning we will do whatever it takes to make sure you have a positive purchase experience. We respond to emails within 24 hours and always make sure all your concerns are answered ASAP.
Easy Returns.

All our products are backed with 60-day money back guarantee. Just contact us and we will refund the purchase price.

Risk-Free Purchase:

Our Buyer Protection covers your purchase from click to delivery so you can shop with peace of mind.

100% Satisfaction Guarantee:

All our products are backed with 60-day money back guarantee. If for any reason you're not completely satisfied with your purchase, contact us for a product refund. We'll be more than happy to assist you.